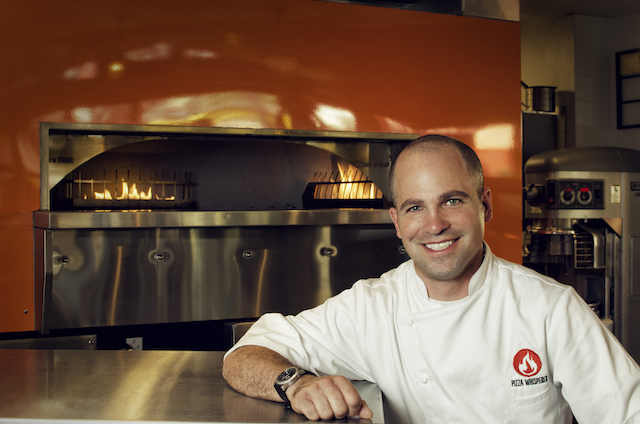 Pizza seems like a simple concept since it's so easy to consume–and overindulge in–on a weekly or daily basis. However, to Brad Kent, Executive Chef and owner of Blaze Pizza and Olio Pizzeria and Café in Los Angeles, there is a science and art to making a delicious artisan pizza.
Whether it is a fast-fired take-and-go pizza or slow roasted while you sit and wait sipping a glass of Zinfandel at your favorite Italian restaurant; there is a process in making those savory sweet flavors that we all desire.
It's the science and art of creating something delicious and beautiful that keeps Kent so interested in having a career as a pizza chef. Therefore, his skills and love for making pizza has been transferred to Blaze Pizza.
Blaze Pizza is located in Tempe near the ASU campus on University Drive.  Blaze Pizza originated in 2012 and has since expanded to over 150 locations and can be found in 2 countries. The concept of fast-fired, ready in minutes, handmade to the customer's preference is working and producing delectable pizzas.
"We do things a little differently here," says Kent, who has specialized in pizza for around 12 years. "I work hands on with our manufacturers to improve the process and quality of our ingredients."
At Blaze Pizza, every ingredient used is all natural, which is an important concept to Kent. "I care what goes into my body and I think others are like minded," Kent says.
Artisan means made by hand. And when it comes to handmade dough, Kent brought Blaze Pizza a skill that is used in French bakeries to make bread. Kent's favorite step of making a pizza comes from the dough and the science of bread; the love for the floral aroma from the yeast, and then baking it with care but intense flame and flare. "We bring an artistic spin into artisanal," Kent says. "We have consistency, and that is not always easy to find in pizza."
One tip Kent offers those who love pizza is restraint. Restrain from too many toppings. Instead highlight the key ingredients. Focus on the texture, aroma, flavor, and temperature to create the must mouthwatering pizza.
"Pizza is the perfect food because it has a sensory melt down," Kent says. "It's crunchy, sweet, chewy, savory and when you combine all of that it is hard not to crave something so enjoyable."–Alexandra Adamson