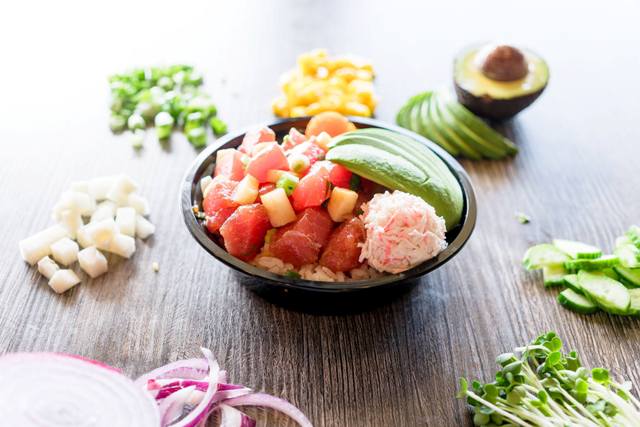 New year, new you–but that doesn't mean all kale all the time. Here are our faves for healthy dining in the Valley.
At its Valley locations, Ahipoki (pictured) dishes up the freshest ahi poke seafood with the only the best, highest-quality ingredients, toppings, house-made sauces and spices. Your bowl is custom made every time featuring healthy and delish options like ahi tuna, signature Tuna Luau, spicy tuna, salmon, Blazing Salmon plus cooked options, including shrimp, kimchi shrimp, octopus and scallops topped with vegetables and exotic toppings like daikon sprouts, seaweed salad and masago. Then, finish it off with one of Ahipoki's famous house-made sauces. Want to make your bowl even healthier? Choose a bed of organic greens instead of rice.
The lineup of delicious cold-pressed cocktails and organic brews at Farm & Craft take the guilt out of indulging (don't miss the popular almond milk cold brew). From the picturesque strawberry brioche for breakfast to the veggie-packed Rustic Farm bowl for lunch, the Wellness Menu offers good-for-you grub in a chic space.
True Food Kitchen's menu is based on the Anti-Inflammatory Diet by Dr. Andrew Weil in which each item is intended to nurture your body and help achieve optimal health. The flavorful menu caters to all palates—vegan and gluten-free included. Be sure to try True Food Kitchen's healthy refreshments and guilt-free cocktails at its two Valley locations.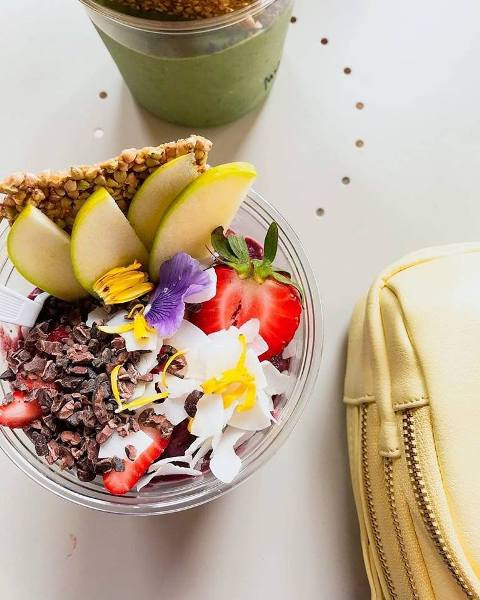 This nutritious newbie (pictured) in Gilbert has made the rounds on social media for its over-the-top smoothie bowls, adaptogenic lattes and raw vegan pastries (think raw "Snickers" and tahini-caramel Rice Krispie treats). All of the eats and drinks are organic, raw, vegan and omit gluten and refined sugar, so you can dig in—guilt-free.
A trendy fast-casual dining spot with various locations, Flower Child's ample menu offers soups, salads, wraps and naturally-raised proteins with no additives.Little ones will enjoy the variety on the kid's menu, which offers gluten-free mac and cheese and organic smashed potatoes, among other eats.B
With nearly 20 locations in the Valley, the healthful eats at Pita Jungle are never too far away. Choose from an array of appetizers, wood-fired pizzas, pitas and featured dinners (the hummus plates are a real crowd pleaser), and tiny diners will adore the build-your-own kid's meal with their choice of protein, grain and veggie.
An eatery and marketplace for the whole family, stop by this Downtown Phoenix hub for regional fare and organic products ranging from cheese and meats to baby care and cosmetics. (There is a second location now open at The Orchard PHX, too.)Be sure to stop by Luci's retro coffee bar for a fresh smoothie or blended drink.
Now with seven Valley locations, the Original Chopshop is offering healthy cuisine with cool vibes and great outdoor seating at every turn. The robust menu boasts pressed juices, salads, parfaits, chia pudding and protein bowls; protein shakes and breakfast options like egg and veggie hash make great post-workout eats.