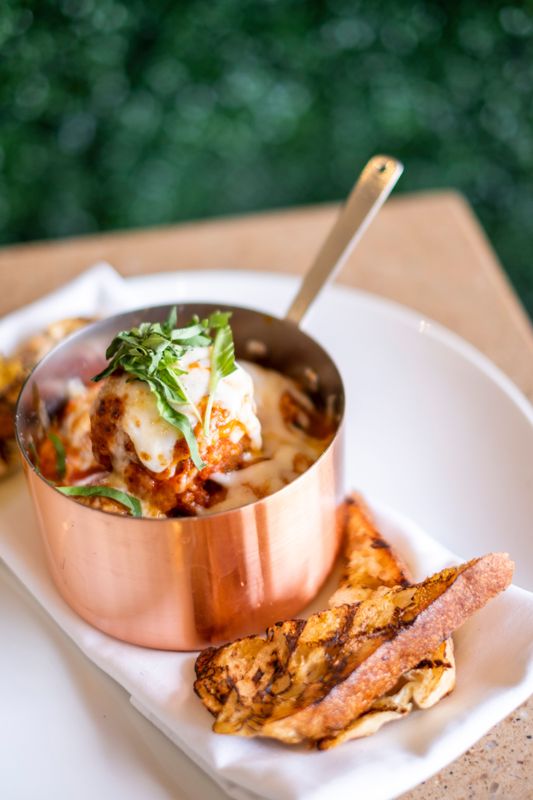 In September, Tomaso's When In Rome reopened its doors in North Scottsdale as Tomaso's Italian Kitchen, a modern-casual take on Chef Tomaso Maggiore's famed namesake Phoenix restaurant. Tomaso's Italian Kitchen features a vibrant, airy dining area with touches of white and blue, a bar and a fabulous patio with a fireplace that is sure to lure locals now that the temps are dropping. During a recent tasting, we sample dishes from the new menu, which was revamped along with the restaurant design.
Though it's tempting to dive right into the pastas, you'll want to sample some starters at the freshened-up restaurant. The sharing boards are a must, chock-full of cured meats, imported cheese, olives, veggies and more, and the burrata salad is as tasty as it is delicious. The board features sweet and juicy tomatoes that have been charred on the vines, toasted ciabatta, basil and creamy buratta, uniquely topped with balsamic pearls. Another great way to wake up the taste buds? Sipping the sparkling negroni, with vermouth rosso, campari, dry gin and pineapple purée, charged into a seltzer–a standout from the restaurant's new craft cocktail lineup.
Warning: Tomaso's Italian Kitchen's bread basket is serious business, paired with a pesto butter that you won't be able to resist.
Chef Tomaso's cacio e pepe, bolognese and carbonara are legendary, of course–but the lump crab and sweet corn ravioli might be our new favorite. Each gigantic ravioli is brimming with the good stuff (the crab and corn, which is a match made it heaven) and topped with saffron, cream and grana. The risotto of the day is another must-try.
Come dessert, the grilled olive oil cake is perfection. The crumbly, rich cake is paired with angel kisses, which are fresh strawberries stuffed with cannoli cream and topped with malted chocolate pearls.