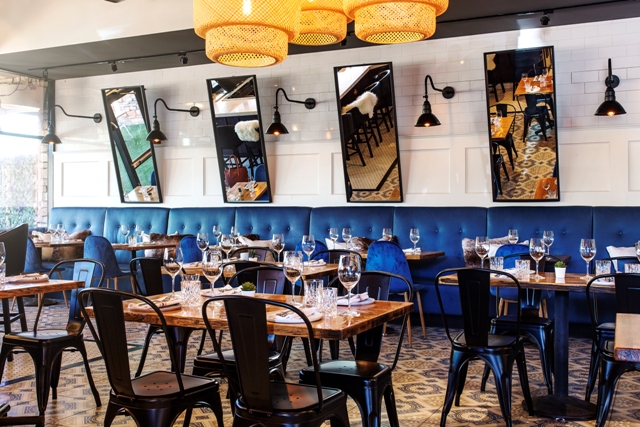 At the start of our meal at the newly opened Parma Italian Roots, Executive Chef Chris Gentile warns, "There's going to be a lot of carbs." Sweeter words have never been spoken.
Parma dishes up West Coast-influenced Italian cuisine crafted by Chef Gentile who hails from Southern California. At barely 28 years old, he is considered a culinary phenom–and we could taste why during our tasting menu of Parma's most exciting dishes.
Before digging in, we were impressed by the beautiful digs–a beachy palette of blue and white set a cool tone for the meal. The chalkboard art, gorgeous tilework, tufted blue booths, nautical-inspired lighting, indoor/outdoor bar and patio space (complete with a fake-grass floor) are delightful and give diners something new to see at every turn. And the best way to soak it all in is by starting with one of Parma's stellar cocktails. The Italian Bird, with gin, elderflower, ginger beer, citrus and butterfly pea flower, was refreshing and bright–and, thanks to its lilac hue, so gorgeous. It was like a unicorn among cocktails. The House of Secrets, with mezcal, green chartreuse, citrus, maraschino liqueur and an absinthe rinse, was a true grown-up sip oozing with sophistication.


Our meal comprised of small courses, chosen by Chef Gentile, including four of the "small plates" offerings. This part of the menu packs a lot of punch; don't go straight to the entrees without sampling some of these shareable dishes. The wood-oven carrots were prepared unlike any carrot dish we've ever had–where the carrot had the starring role. The sweet carrots were coated in vegetable ash, blackened in the oven and paired with salsa verde and mascaropone. The grilled Spanish octopus was a stunner (it's a dish for the 'gram!), paired with romesco, crushed hazelnuts, fennel and fresno chili.
Our small-plates faves, though, were the ricotta-stuffed squash blossoms and roasted mushroom toast. The divine squash blossoms could even be a dessert, featuring orange blossom, honey and toasted sesame seeds. Each had a crispy exterior and a warm, sweet, gooey center–they are addictive little nuggets. The award-winning roasted mushroom toast was one of the most decadent veggie dishes we have experienced. The thin toast was topped with Brown Beech mushrooms, truffle, creme fraiche and sherry. It was utterly comforting, buttery and such a great dish as the fall months present themselves.
And since no Italian restaurant is quite complete without pasta, Chef Gentile brought out his incredible house-made gnocchi (in fact, all Parma pastas are made in house daily). The bed of cloud-like gnocchi was topped with pomodoro, a sprinkling of basil blossoms and a dollop of fresh burrata. There was something so heavenly about biting into the hot pasta draped with the cool, creamy burrata.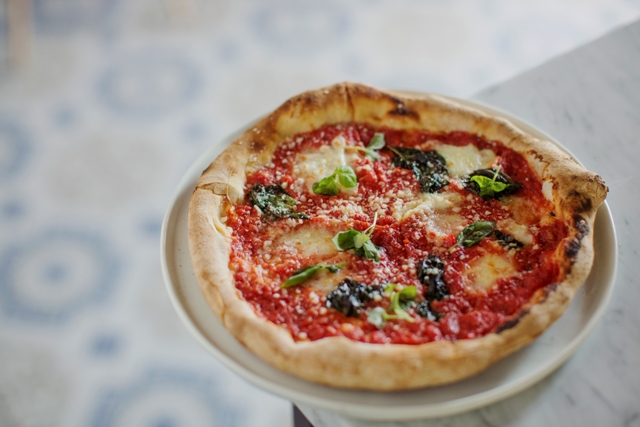 Now for the pizza. Parma offers six pizzas, but the margherita is a beautiful showcase of how delicious simplicity and high-quality ingredients can be when they come together. The six-piece pie is topped with organic California tomato (Chef explained the care he takes in choosing the right tomatoes for pizza sauce versus for pasta sauce), fresh mozzarella and plenty of basil. This pizza is basically perfect. The sauce offers a bit of sweetness, there is a perfect balance of crisp and chew and the crust's blistered edges are so impeccable, they could have been painted on.
We ended the meal with a the tiramisu semifreddo. The dish offered all the rich coffee flavor of a traditional tiramisu but with the icy, refreshing texture that is adored about semifreddo. And if you opted for one more round of the squash blossoms, we wouldn't judge.