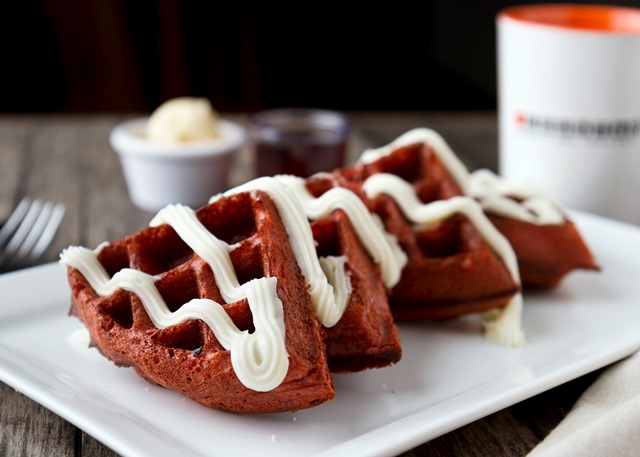 Warmth and hospitality coming from the café could be felt across the street. NCounter's brand new location in Downtown Phoenix is the perfect meet-up location for those looking for a friendly get-together or a cozy Sunday brunch with family members. The well-thought-out, yet simple menu gives guests a chance to pick their own dish without feeling overwhelmed.
To promote its new location (the original is in Tempe), hosts of the event allowed attendants to taste small appetizers, pick an entrée of their choice and two drinks.
As I was carefully studying the menu, that included breakfast options, sandwiches, omelets, hot and cold sandwiches and more, I was caught by the peppered parmesan chicken salad, described as "grilled chicken sautéed with cashew, red peppers tomato, and a hint of garlic, on romaine, with Italian parmesan dressing."
I thought it was a tasty and light choice for my special Twilight brunch, and the small chicken pieces nicely blended in with the cashew. I ordered olive oil on the side as my own personal touch to the meal.
My dining companion opted for the turkey pesto sandwich instead, made with "turkey, roma tomatoes, provolone, roasted walnuts, pesto dressing, and spring mix on fresh-baked focaccia." Most of the guests sitting around my square table were slowly savoring their sweet selections of pancakes, waffles and fruity smoothies.
With an orange juice in my hands, I noticed the café started filling up fast by 6 p.m., and soon enough, guests of all ages were standing by the appetizers, waiting for a free table. The outdoor patio provided a more reserved space for those who wanted to enjoy Arizona's weather to the fullest. All the waitstaff moved fast among the tables, ensuring they were proving the best service on a busy, first day of work.
With its fresh, healthy, and unique menu, I recommend visiting the newest location of NCounter for delicious dishes in a relaxed, urban atmosphere.
Hours of operation are 7 a.m. to 3 p.m. –-Sara Tiradossi