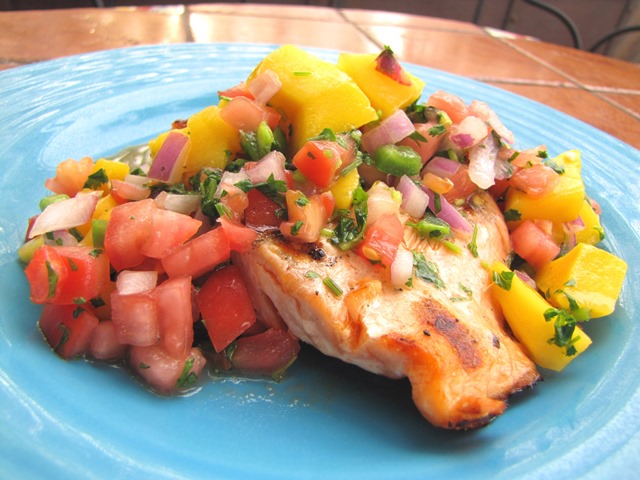 Los Sombreros in Scottsdale recently launched a limited-edition 10-course tasting menu (as well as new lunch and dinner items), developed after owner Azucena Tovar returned from her annual trip to her childhood home of San Miguel de Allende in central Mexico, where she gathered inspiration for the new menu. We had the chance to sample this amazing new menu, consisting of small portions that provide plenty to fill you up, but not enough to have you rolling out the door (available until mid-September, shared among two people for $50 each). Get ready to get hungry…
The tasting menu kicked off with a hibiscus taquito for each diner, as well as a cup of pozole. The soup offers a hint of spice and is chock-full of hearty pork, hominy and topped with crispy tortillas. To balance the warmth and spice of the soup, the taquito is sweet and crispy–a great summery dish that made for one of our favorite items in the tasting.
Next up, the pair of diners share the fig and panela cheese salad and shrimp and papaya salad, both on a bed of fresh greens. The figs are delicious against the balsamic vinaigrette and the panela dishes up just the right amount of creaminess. The second salad doesn't skimp on shrimp or papaya, even though the portions are small. Again, the salad is perfect for the end of summer–sweet, refreshing and light.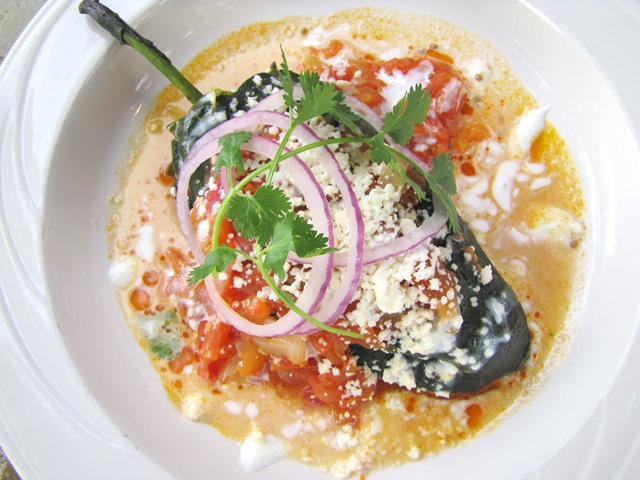 Diners then share the seafood rounds, including salmon (pictured) and trout. The salmon is cooked perfect and paired with a mango pico de gallo that we would have gladly eaten up with a spoon. The trout is a more unique seafood dish, being crowned with almonds, cauliflower and lemon butter with capers. The crunch of the cauliflower and almonds provides welcome crunch and the capers offers yummy pops of salty, savory flavor.
Before digging into the beef entrees, the chile relleno (pictured, a large dish is shared between the two diners) with beef picadillo is divine, especially when paired with Los Sombreros warm, fresh tortillas. The raisins and apricots give the dish a sweet slant. This was another table favorite.
The pechuga rellena comprises grilled chicken breast (pictured) stuffed with goat cheese and huitlacoche in a chipotle-tomato sauce. The chicken is deliciously crispy while the pork tenderloin–though a bit dry–is paired with a heavenly tamarind mole.
Finally, piloncillo (a cane sugar found in Mexico) ice cream finished the meal and dishes up a unique flavor that reminded us of a cinnamony coffee. The small scoop makes for the perfect 10th course. www.lossombreros.com.