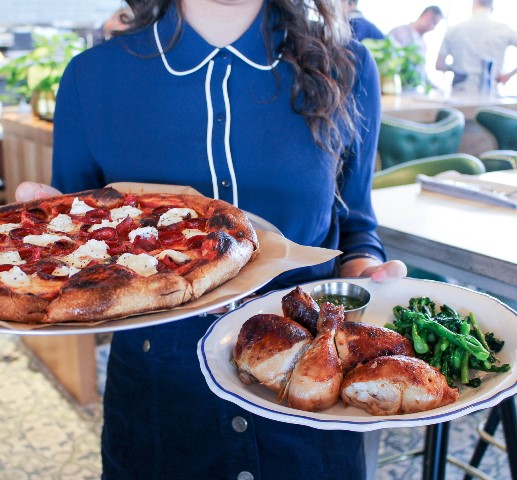 There is this guy in town that you may have heard of: Sam Fox. In March, Fox Restaurant Concepts opened a new spot in the heart of Arcadia, dishing up a fresh concept and beautiful design. Doughbird Pizza & Rotisserie's menu marries house-made pizzas and rotisserie in an elegant, yet relaxed, Northern California-inspired space (with minimalist white walls, wood accents, an inviting combo of comfy booths and traditional tables and an open kitchen with a centerpiece wood-burning oven). Outdoors, guests are invited to dine on a wrap-around patio, with views of Camelback Mountain in the distance. Though it is a large space, at 5,500 square feet, it still feels welcoming, warm and intimate.
Doughbird's menu features a seasonal rotation of 12 to 15 pizzas and four slow-roasted rotisserie options, with classic comfort sides and unique sauces. On the first menu edition is the brussels sprouts pizza with melted sweet potato, glazed bacon, smoked mozzarella and pistachio. Who needs pepperoni with that lineup of toppings? The bacon adds a great saltiness while the pistachio gives a welcome crunch (as do the charred brussels spourts). The melted sweet potato acts as a creamy sauce to top it off. We also hear the crispy pastrami pizza with aged gruyere, pickled mustard seed, purple kale and rye is a winner.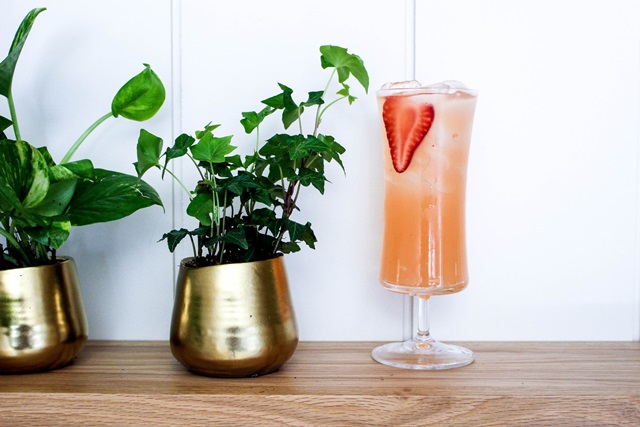 From the rotisserie, a plate of free-range chicken is a must (half or whole bird). Now, we know that chicken isn't the most exciting menu option of all time–that was until Doughbird got its hands on it. The chicken is tender and juicy, and the lineup of sauces makes the chicken even more tempting. Request a few sauces to sample, with Jamaican jerk marmalade and jalapeno pesto being favorites.

For dessert, "The Elvis" is the just-right size, with the just-right amount of sweetness. The peanut butter and chocolate parfait (the most winningest dessert flavor combination ever) is rounded out with banana, whipped cream and crispy bacon sandies. And though the cocktail menu is short, it sure is sweet with refreshing, spring-friendly options. The Local is a light, cooling combo of whole strawberry, Arcadia grapefruit vodka and lemon. (It sure is pretty, too.)
Doughbird is open Sunday to Thursday from 11:30 a.m. to 9:30 p.m. and Friday to Saturday from 11:30 a.m. to 10 p.m.