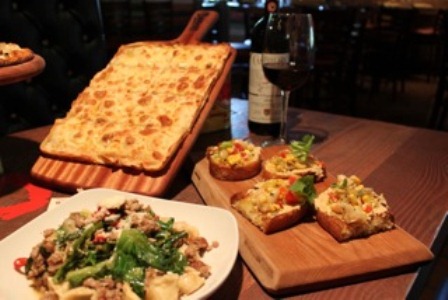 A divine new Italian eatery opened in Scottsdale last month (at Lincoln and Scottsdale Roads), and we were lucky enough to get a taste of the authentic eats at Davanti Enoteca. Davanti comes from the owner and creator of Mia Francesca (another great spot for Italian fare in Scottsdale's DC Ranch). However, Davanti has more of a casual, home-y feel and an inventive menu, by Sassi's former chef Peter DeRuvo, to go along with welcoming digs.
First off, the nearly paper-thin focaccia stuffed with creamy ricotta and topped with local honey comb might just be our new favorite appetizer in the Valley. (Heck, if you put on enough honey, this could even serve as dessert.) The bread simply melts in your mouth. If you have more than two at your table, consider order more than one of these plates. The focaccia slices go fast. Another delectable starter is the watermelon and mint salad. Completely light and refreshing–a great foil to heavier Italian dishes.
For lunch, not much beats the porchetta sandwich. Nearly every server will recommend it. The savory pork will practically melt in your mouth. On the side, the matchstick fries are addictive. Another can't-miss is the plate of orecchiette pasta with sausage, rapini, pecorino and chilies. The dish offers a bit of spice but a whole lot of flavor and heartiness.
If something sweet is in order, sink your teeth into the Purple Pig. This sweet panini features Nutella-slathered bread slices, rounded out with marshmallow fluff and bananas. It's as sinful as it sounds–but also as finger-lickin' good.