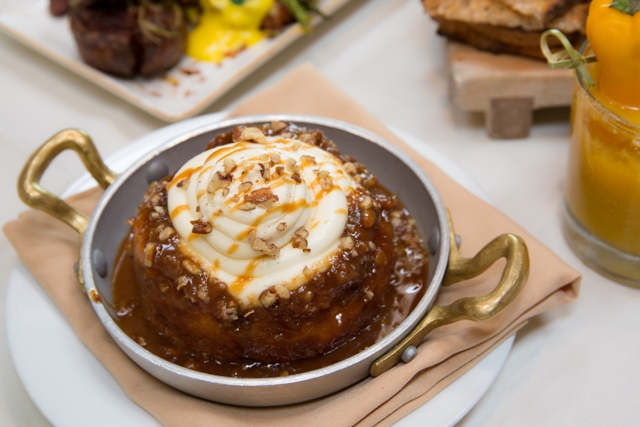 As your friends and relatives touch down in the Valley for the holiday season, you're likely looking to give them some quintessential Arizona dining experiences, right? Well, look no further than the new brunch menu at LON's at the Hermosa. Of course, we all know and love LON's thanks to its breathtaking patio (is there a better time to dine outdoors in the Valley?) and incredible dinner eats, but you're bound to woo Aunt Martha this holiday season by reserving a brunch at the famed restaurant.
During a recent visit, these were our brunchtime faves:
The fresh-baked "monkey" bread and sizzling bacon (both are pictured) won't win you any points with your nutritionist, but, hey, it's the holidays! Dig in. The monkey bread looks like a large sticky bun, oozing with caramel, crunchy pecans and a crown of cream cheese frosting. Though this sounds like a lot of sweetness for the a.m., it really isn't over-the-top saccharine. Each rich, velvety bite melts in the mouth; there is no sugary grittiness. The house-made peppered bacon is served in its own little skillet alongside a few toasted pieces of Noble bread. The icing on the cake is when the server pours maple syrup over the thick bacon slices, causing it to bubble in the skillet. This dish is a real treat for those who crave a salty-and-sweet combo.
We're pretty sure that brunch isn't complete without some runny eggs and hollandaise, so LON's eggs benedict was in order (there are three varieties to choose from). We opted for the lobster, a more unique benedict dish, featuring poached eggs, chimayo hollandaise and spinach over crispy pieces of lobster tempura (diners can also order the lobster tempura alongside shishito peppers as an appetizer). Though each bite is rich and delicious, the crispy potatoes might be the scene-stealer here, especially when dredged through the creamy hollandaise.


For a lighter brunch offer, we adored the house-smoked salmon. The picture-perfect plate features the salmon piled high on a crispy potato cake with tomatoes, capers and whipped crème fraîche. Though the salmon appears on the starter lineup, it definitely satisfies like an entree. The potato cake makes for a fancier hash brown and the light-as-air crème fraîche adds a burst of brightness.
The LON's at the Hermosa brunch menu also features hash, pancakes, French toast, a selection of salads, sandwiches and a burger for hearty appetites and much more. And though we didn't witness it ourselves, we hear the churro dessert is quite the showstopper. Brunch is served Saturdays and Sundays from 10 a.m. to 2 p.m.