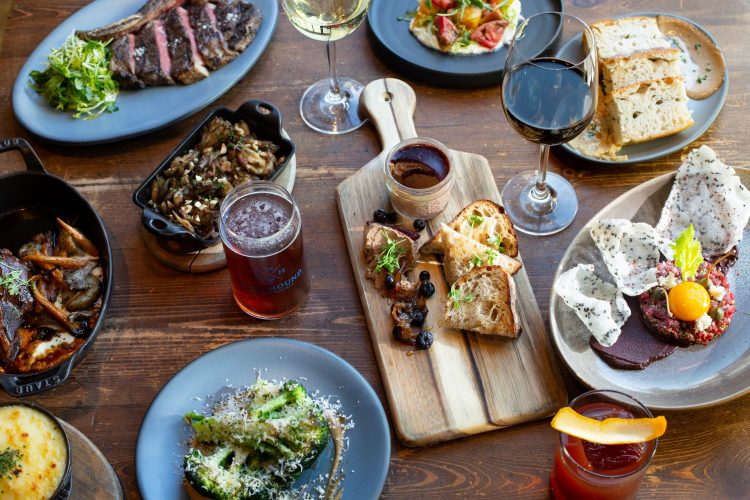 I always know a meal is amazing when I'm still thinking about it weeks later. And that's exactly what my recent trip to Blue Hound Kitchen & Cocktails has done for me. Located at the Kimpton Hotel Palomar Phoenix in Downtown Phoenix, the restaurant has just debuted a new menu from Executive Chef Dushyant Singh, a New Delhi native who's bounced around at some of the Valley's most respected restaurants. Now at Blue Hound, his new menu is a perfect balance of unique ingredients mixed with comforting classics. He's also expanded the beef offerings with high-quality cuts like rib eye, pork chop and steak, with most dry aged and butchered in Phoenix.
Our dinner kicked things off with the tuna crudo, made with sushi-grade tuna, blood orange compressed watermelon, tajin and red onions. The fresh appetizer (that was devoured in moments) was a definite foretelling of the great things to come. My boyfriend, who really isn't a fan of raw fish, stated at the end of the meal that this was his favorite course. Next up was the crispy brussels, of which I ate by the spoonful. Garlic ciabatta, anchovies, parmesan and a black pepper egg vinaigrette made these brussel sprouts some of the best I've had. The next app to hit the table was the ricotta gundi. The rich dish offered up the ideal amount of savory without overdoing it. Brown butter emulsion, crispy sage, parmesan and pickled beech mushrooms made this a truly creamy treat.
The main course was a snapshot of dishes I wish I could whip up every single day. For those seeking something lighter but still packed with flavor, the Faroe Island salmon was perfectly cooked. The flaky, fall-apart fish had a to-die-for crispy crust, making me think the pescatarian life could be an easy one. And then the 8-oz. Niman Ranch 40-day dry-aged sirloin landed and reignited the carnivore in both of us. The juicy cut paired like heaven with the creamy brown butter bearnaise. Don't dismiss it as just a side condiment; it's just as much a star as the steak.
While all the shareable side dishes will make your mouth water just by reading them, we recommend ordering the potato puree for your starch. Baked in a small dish, it was somewhere between au gratin and mashed potatoes, with crème fraiche, European butter and comte. Need we say more? The sweet corn, a personal fave of mine, was made with miso butter, aleppo pepper and cotija. It reminded me of street corn without the mayo. A win! And for mushroom fans (me!), the wild mushrooms take the traditional veggie to new levels with soy caramel, hazelnuts and chives mixed in. It's the Beverly Hills of mushrooms.
Since we nearly finished everything thus far, I'm not sure how we had room for dessert but when you're served a not-too-sweet date cake, you keep going, and we were oh-so happy we did.