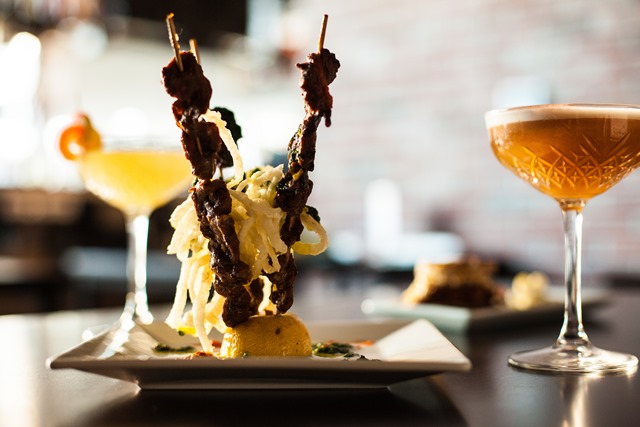 Have you been longing for a cool new spot to unwind after the workday? A place to grab a good cocktail, take in a few snacks and just chill out for a spell. We have found it–perhaps in a surprising place, too.
Bitters, a craft cocktail and beer concept, just opened at SkySong, Arizona State University's development at Scottsdale and McDowell Roads, in October. The sleek spot (but not intimidatingly sleek) features a large bar that acts as the centerpiece of the restaurant and, if you choose to linger a while, comfy maroon booth seating. The patio will also be a nice spot to catch up–and drink up–once the fall temperatures finally roll around.
The menu, from Chef Ehren Litzenberger, formerly of BLD and The Biltmore, spotlights 12 small but expertly done, shareable plates. For a little something to snack on, Bitters serves three flavors of artisan popcorn: Truffled, with truffle butter, zest and oil; Honey Hot with curry dust, honey hot, pomegranates and goat cheese drizzle; and Arizona, with tajin, cilantro lime salt and queso fresco. Though each is bursting with flavor, the zesty Arizona option is our favorite.
For something a little more decadent (but not ridden with guilt due to its small size), the farro risotto and salmon, with brie, parmesan, herbs and tomatoes, is a creamy, comforting dish. The salmon is flaky, cooked to perfection and a favorite of Bitters owner, Erika Rode, who said it is among the best salmon dishes she has ever had.


An unexpected favorite is the satay (pictured), a beautifully presented dish of thin-sliced beef (which has been marinated and grilled) with crispy onions, Devil's Breath and chimichurri sauce. The beef melts like butter in the mouth, and the flavors are bold, fresh and unique.
Though the menu packs a punch, Bitters is a drinking establishment at its core, and its menu of handmade craft cocktails is on a mission to impress. Each cocktail's name cleverly incorporates the word "bitter" (The Bitter End, The Bitter Ex, Bitter Happiness), and we are fans on The Bitter Fruit (pictured). The server described it as a drink that feels like vacation–and we agree. It is a sweet and creamy concoction of coconut Rum, vanilla, orange juice, almond milk and bitters.
P.S.: Bitters also will offer a unique personalized locker program, The Bitter Enthusiast Club. Up to 30 members are able to store their favorite bottle of whiskey in their own private space at the bar.