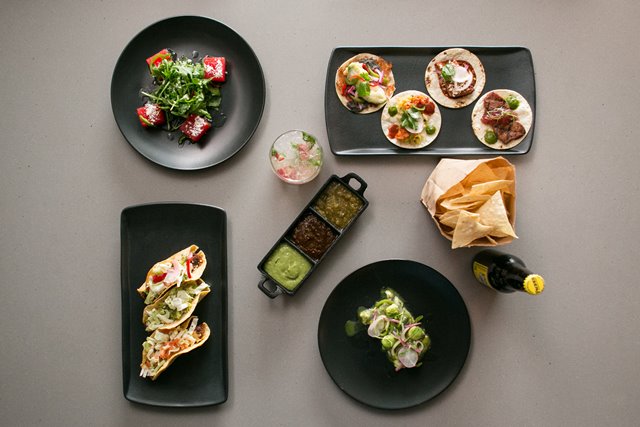 Now open for about two months in Arcadia, CRUjiente Tacos has already become a must for tacos lovers. And not just lovers of run-of-the-mill tacos, but inventive, unique, yeah-they-are-about-$5-a-pop-but-worth-it tacos.
Executive Chef Rich Hinojosa (formerly the executive chef of The Wigwam) is from Texas and grew up eating tacos. Even though tacos are trendy at the moment, they were a way of life for him. Prior to opening CRUjiente (which means "crunchy") he even won first place at the Arizona Taco Festival for his Korean fried chicken taco. Now, diners can find really creative offerings, such as that one, on the menu.
Though tacos may be the name of the game at CRU, you'd be making a mistake if you passed up the queso on the appetizer menu. Fresh tortilla chips are paired with chorizo, roasted poblano, onion, cotija and cilantro to create a truly addicting dish. The queso is super creamy with both spicy and sweet aspects. For a lighter, more refreshing kick-off, try the Aguachile, which is a New Caledonia prawn, lime, jalapeño, radish and cilantro, or the Sandia salad with watermelon, jalapeño, cotija, arugula and citrus (both would be swell summertime dishes).
Onto the tacos. CRU offers three crunchy options, with the beef being a favorite. Cheddar jack, cabbage, house hot sauce and pico de gallo fill the large taco shell, alongside a hearty helping of beef. One of the more traditional offerings on the menu, it is also one of the more spicy as well. There are nearly a dozen street taco varieties to choose from, and whether you like meat, seafood or are a vegetarian, there is a taco (or two or three) for you to enjoy. We suggest choosing three or four, with our favorites being the blue crab with avocado mousse, citrus, red onion, fresno and cilantro and the pork belly with house kimchi, cilantro and sriracha aioli. The blue crab taco is a little masterpiece, full of color and flavor, while the pork belly is a hearty, texture-packed pocket of goodness. The aforementioned Korean fried chicken taco is another must-try; it is sweet, savory and not shy on the fried chicken.
To complement the great menu, CRU is home to a pretty impressive bar with excellent tequilas and cocktails and a laidback atmosphere, making it a top spot for an after-work stop or to watch a game on the large TV's. That is, if you can look up from your little works of taco art.