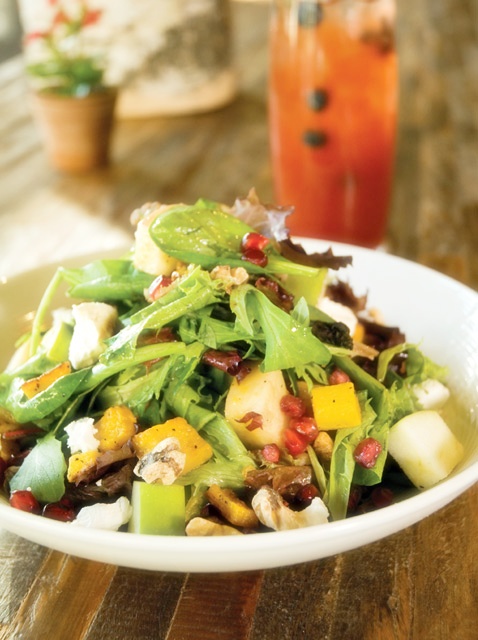 Now that 2012 is here, so are resolutions to get healthy. Going out to eat can often ruin any get-fit resolution with one bite from the bread basket. However, here are five restaurants in Scottsdale and Phoenix whose focus is healthful, nutritious eats.
True Food Kitchen, with popular locations in both Scottsdale Quarter and Phoenix's Biltmore Fashion Park, focuses on simple, fresh foods that are packed with nutrition and flavor. The Tuscan kale salad, with lemon, parmesan and bread crumbs, proves how delicious simplicity can be while the slightly more indulgent turkey bolognese is hearty though still healthy. Plus, those with an eye for design will appreciate True Food Kitchen's contemporary aesthetic and gorgeous patios. www.truefoodkitchen.com.
Nothing on the menu at Seasons 52 is more than 475 calories, plain and simple. The Biltmore Fashion Park restaurant in Phoenix strives to provide diners seasonally inspired, healthful eats that won't expand waistlines. Though Seasons 52's flatbreads are awfully popular, the restaurant's Mini Indulgences (desserts that fit into a shot glass) are always an exciting and delicious way to end the meal (flavors include everything from pecan pie to carrot cake to key lime pie, as well as seasonal faves). www.seasons52.com.
The name of this Scottsdale restaurant is Nourish–that should say a lot. Located in the Optima Camelview Village, Nourish packs in body-conscious diners will menu items like its sweet potato and avocado salad, veggie quiche and air-fried egg sandwich. And the color-coded menu easily shows diners which menu items cater to those with certain dietary restrictions (vegan or vegetarian, nut allergies, Celiac's Disease, etc.) www.nourish123.com.
As one of the foremost vegan restaurants in the Valley (not to mention the nation), Loving Hut focuses on wholesome, plant-based fare. The healthful Asian-inspired menu items include grilled teriyaki, using soy protein, chow fun with tofu and fried rice. There are even all-American faves like vegan version of a Philly cheesesteak. www.lovinghut.us.
DC Ranch's Calistro California Bistro (a second Scottsdale opening is also planned) dishes up farm-to-table cuisine in a casual environment. Though there are plenty of opportunities to indulge, there are also satisfying ways to behave via the restaurant's ahi tuna gazpacho, seasonal fish dishes, hummus appetizer and more. www.calistrobistro.com.