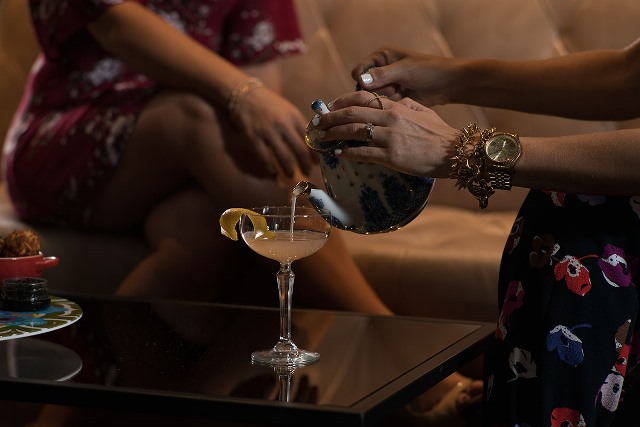 High tea: What could be more fun? Tiny sandwiches, fancy outfits, delicate pastries, endless tea. After experiencing the new Tipsy Tea program at The Camby in Phoenix, we can say that a little booze can definitely up the fun factor of a traditional high tea.
Recently making its debut at The Bee Knees lounge, Tipsy Tea is now offered every Friday and Saturday from 2 to 5 p.m., offering a modern twist on the traditional high tea–in a quirky way that only The Camby can pull off. For $40 per person, tea-goers receive one of every dish from the prix-fix menu, a choice of tea cocktail to be served in a teapot and a finale of sweet treats.
Favorites from the prix-fix menu, courtesy of The Camby's super-talented Executive Chef Dushyant Singh, include fried cherry green tomatoes (we loved the burst of brightness with each bite) with preserved lemon aioli, truffle deviled egg with a surprise center of crunchy potato chip dust and a grown-up-friendly aji amarillo tater tot. The selection of mini dishes are served on a color Lazy Susan so friends can easy spin to the next nibble.
Once the savory menu is consumed, Tipsy Tea progresses to a delicious, beautiful dessert finale. The presentation is on point; the sweets selection is served in one of those cookie tins that every grandmother has in her pantry and filled with colorful sprinkles (have your Insta ready). On the bed of sprinkles, tea guests will find French macarons, itty bitty eclairs and more sweet treat–plus, our favorites, a tangy no-bake citrus cheesecake and a decadent pistachio cream pie in a cannoli shell.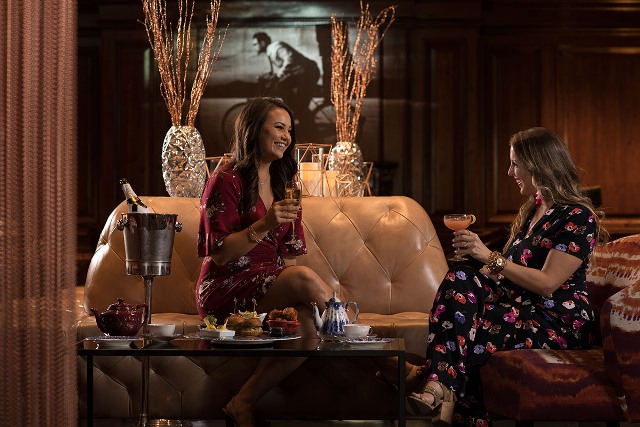 And we can't talk about Tipsy Tea without mentioning the delicious, innovative cocktails. First of all, the presentation will win hearts with the charmingly mismatched teacups, saucers and teapots (yes, most of the cocktails are still served in traditional teacups). The cocktail menu focuses on three options: chilled or hot tea-infused cocktails or tea-infused Champagne cocktails. We sampled a few of the chilled tea cocktails, including the tropical, feel-like-you're-on-vacay Havana Rising with white rum, vodka, lemon juice, and green tea simple syrup, and the sweet, dessert-y Verbena Dream, with lime vodka, orgeat syrup, lime juice, maraschino liqueur (the cocktail has wonderfully strong cherry flavor) and verbena mint iced tea.
Reservations are highly recommended and can be made on ArtizenAZ.com or by calling 602.522.6655.