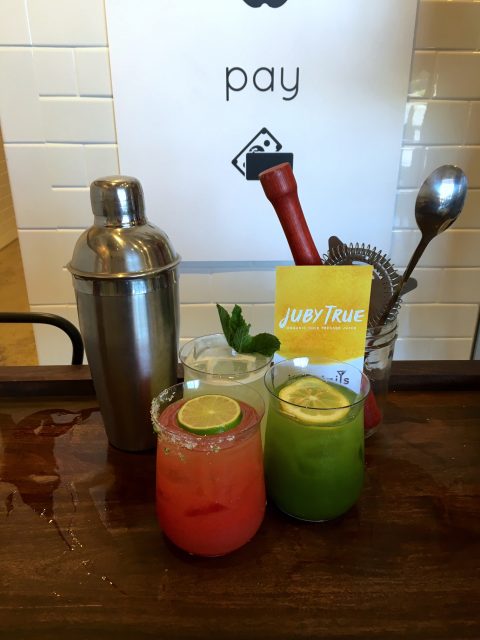 Seasonal fruit like strawberries, watermelon and blueberries offer the opportunity to create the perfect summertime juices. At Juby True, by True Food Kitchen, the seasonal juices range from a spicy watermelon tang to a creamy almond milk delight. However, this summer they are taking an interesting twist to the healthy life style they empower with juicetails.
Juicetails are a combination of fresh cold-pressed juices and spirits to create a balanced cocktail perfect for the hot summer months. The three seasonal juicetails they have created are Spicy Watermelon Margarita, Little Miss Rumshine and Bazillion Dollar Bloody Mary. One 16-oz. $9 bottle of cold-pressed juice can make two cocktails.
The Spicy Watermelon Margarita bestows a spicy sweet zest that leaves you wanting more. The Little Miss Rumshine is an adventurist twist on a Moscow mule, while the Basillion Dollar Bloody Mary can cure any next day headaches with a spicy kick. If you prefer your cocktails to be creamy, just add coconut milk or cream to any of the three juicetails and you're set.
The organic, cold-pressed seasonal summer juices available now at Juby True are Berry Happy, Watermelon Spicy Cooler and El Verde. Each bottle cost $9. Berry Happy supports a healthy mood. Watermelon Spicy Cooler hydrates and supports libido while boosting the glow of skin. And El Verde is dense in chlorophyll and is an anti-inflammatory.
Visit Juby True at any of the three locations: Arcadia, Juice Bar at True Food Kitchen at Biltmore Fashion Park or Scottsdale Quarter.
Spicy Watermelon Margarita recipe:
Step 1: Open a bottle of fresh cold-pressed Spicy Watermelon Cooler juice.
Step 2: Pour the juice and 2 oz. of tequila in a shaker with ice.
Step 3: Get your shake on.
Step 4: Pour your masterpiece into a glass garnished with sea salt or lime zest and enjoy.
–-Alexandra Adamson