By: Chardai Fisher
Hey guys, no matter how big, small, or thin, we are always looking for ways to tone, lose inches, and trim our tummies. Especially when aunt flow shows up or when the stress load of life happens to us, am I right? I know from my own experience if I have the tiniest amount of stress, anxiety, wings from ATL wings, ice cream at midnight, or way too many White Claws.  I am jumping into my skinny jeans instead of sliding into them. I find myself so upset that I look for a loose-fitting dress or my favorite pair yoga pants or leggings.  If you see me cruising around the valley in either of those and I am not sweaty from a hike, bike ride, or jogging your girl messed up, and Then I think its liquid diet time heheheheheh. So, you ask, "girl, what's in your liquid diet?" Thank you for asking. First, let me say I love, and I mean love bananas, kale, and pineapples, so I will try not to be biased. I have my favorite go-to recipe from home, a favorite local spot that I circulate to on a regular.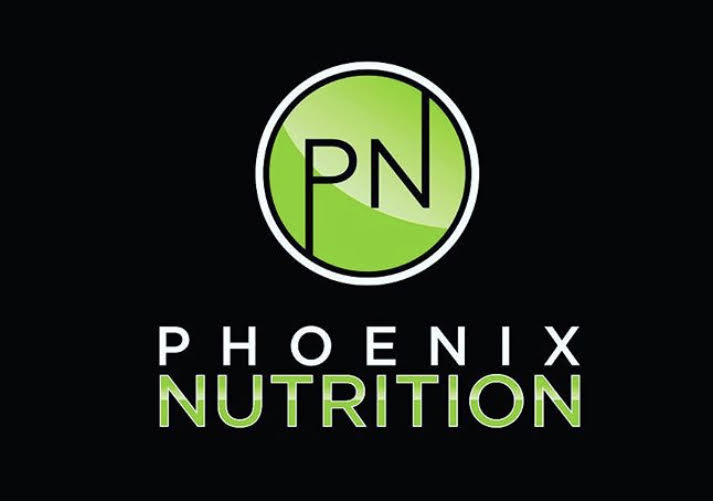 If you are on the go and have not time to make your own, and If ordering your smoothies and having it delivered is your style.  I have an amazing local spot that is perfect for you in the Moon Valley area. Welcome to Phoenix Nutrition (More Than A Shake Shop) located 15414 N. 7th street suite 8 Phoenix Az 85022. 
Hours of operation are Monday- Friday 7 am-2 pm, Saturday 8 am-1 pm closed on Sundays. They have gotten creative with ways to order of course you can walk in, curbside, whether you are on Instagram, Facebook, or, Google all orders can be taken from these social media outlets.
You can also order via Uber Eats! If that isn't instant gratification I am not sure what is. A fully enriched 24 grams of protein smoothie that has 220 or fewer calories with 21 vitamins and minerals in every sip.  The fellow Arizonians that pop in and out of Phoenix Nutrition love these three smoothie Chocolate Peanut butter Banana, Cinnamon Roll, and Birthday Cake.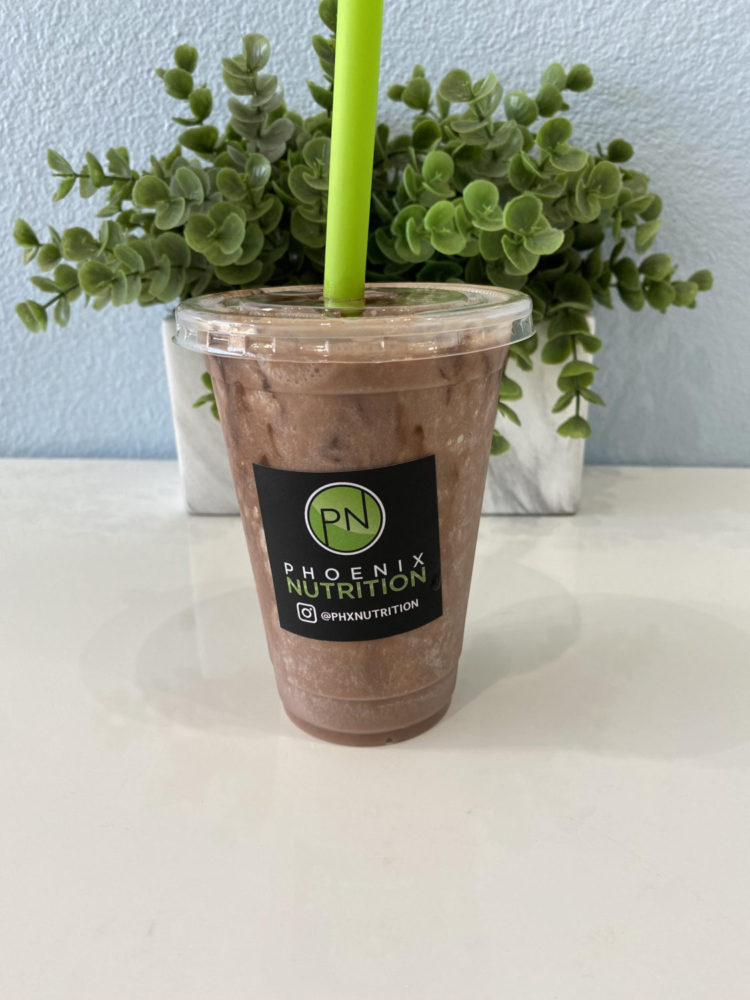 Are you wondering what else is on the menu? "Since its more than a shake shop" PN offers energizing teas enriched with aloe and other add-ins as follows: Donut fat burner, Pre-workout, Immunity Booster, Protein, Fiber and a Probiotic. If you are looking for weight loss coaching, fitness coaching, support, and accountability programs, and full-body transformations with cash prizes this is the place to be.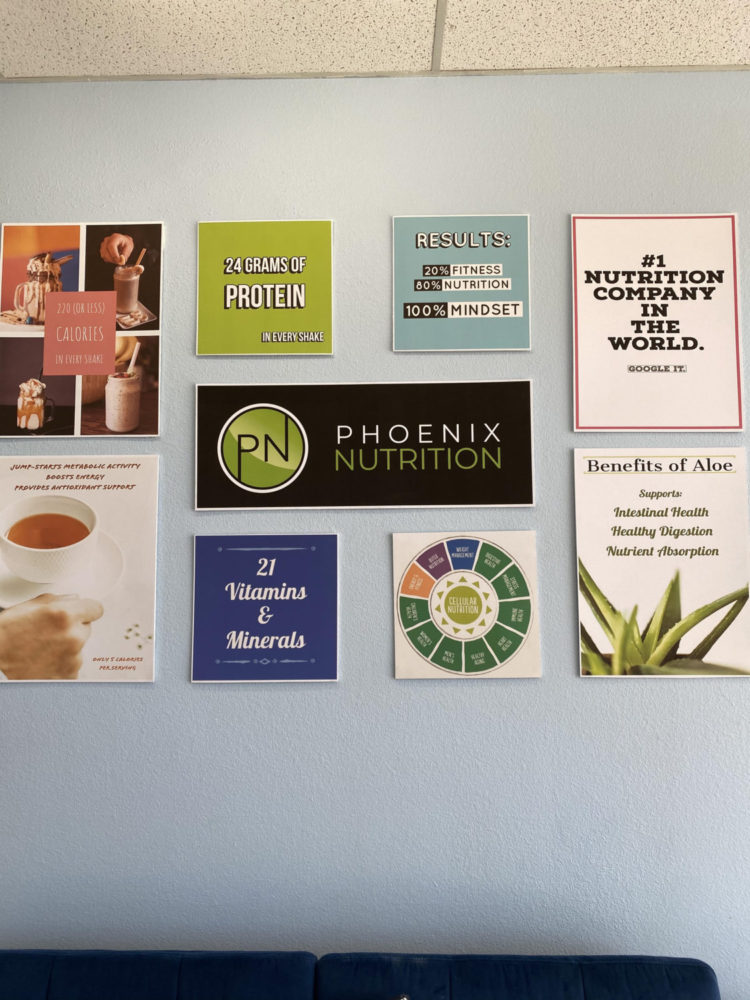 The reason why I and so many others visit this shop is Good Vibes, Great Energy, and amazing conversations. You will leave feeling energized wanting more and ready for your day!
 If you have the time to set up your blender the killer this recipe will be right up your alley.  If you have a personal chef, they will get a kick out of this recipe.  If you're ordering your weekly groceries online or through an app these items are must-haves to start your day, great for a mid-day snack away from your computer, and an amazing after-dinner craving idea. Spinach (power fiber), Banana(good carb) Strawberry(Vitamin C), Blueberry(antioxidants), Chia Seeds(Omega-3), and almond milk(Vitamin D) to make the Wildberry Banana Spinach Power Smoothie have 179 calories, 8.8 grams of fiber, and 4 grams of protein. This vegan smoothie has a high nutritional boost and a healthy dose of omega 3. What is the prep time you ask 5 short minutes, what is the cooking time? A grand total of 0 seconds.  In 5 short mins, you can have the meal of a lifetime. YUM!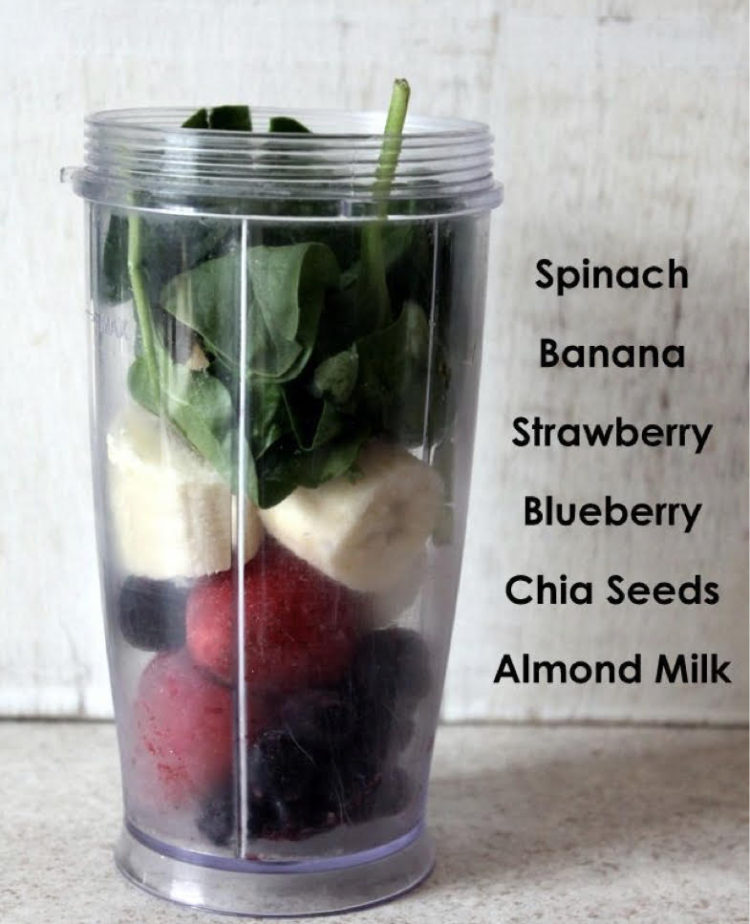 Recipe:
½ cup frozen blueberries
½ cup frozen strawberries, raspberries or blackberries (your favorite berry)
½ frozen medium banana
1cup Almond milk of your choice
1 cup of baby spinach
1 teaspoon of chia seeds for topping (if desired)
Place all ingredients besides the chia seeds into your blender and blend until smooth if your smoothie is too thick feel free to add more almond milk. If your making this for your squad pour into a chilled glass topped with blueberries and chia seeds for presentation HONEY!
I have not only made this recipe and seen results after having my daughter or just trying to lose water weight before a vacation or getting ready for a hot date. I have done the work and the research to get the results that we all desire. We want smaller tummies, toned legs, slimmer arms, and killer butts so why not drink your way to that. The key benefit of smoothies is hydration, vitamins, intake of fruit and veggies and it is a quick and easy meal on the go. I always say it is easier to drink it when I am rushing from daycare back to work to a sales meeting and drop-offs.
Quote of the week: Dear Body, I love you.