With names like Chocolate Kiss and Raspberries and Roses and presentations that make our hearts–and taste buds–swell, we find it impossible to resist these tempting Valentine's Day-inspired cocktails. If you can't resist them either (or you don't think your sweetheart will be able to come Sunday night), you can whip them up at home, following these instructions, or purchase them at the respective Valley restaurants.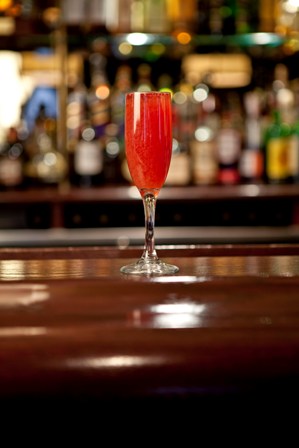 Valentine Crush
From Morton's The Steakhouse (Phoenix and Scottsdale)
1 oz. Absolut Citron
1/4 oz. Grand Marnier
1/2 oz. Raspberry Puree
Fill to top with Segura Viudas Sparkling. Pour Absolut, Grand Marnier and raspberry puree into chilled flute. Slowly add sparkling wine, filling to the top of the glass.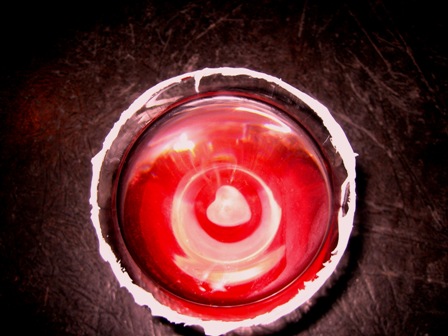 Sweetheart Martini
From C4 Martini and Wine Bar in Cave Creek
1.5 oz. titos vodka
2 oz. cranberry juice
1 oz. grand mariner
Squeeze of fresh lime juice
Shake and strain serve in a martini glass. Garnish with vanilla frosting and float a candy heart.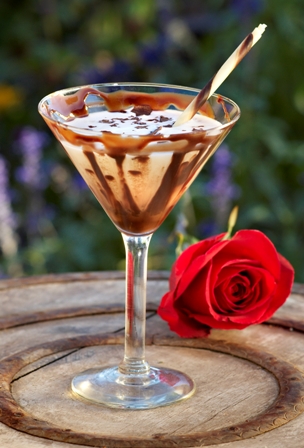 Chocolate Kiss
From Lon's at The Hermosa Inn in Paradise Valley
1 1/2 oz. Stoli Vanil Vodka
1 oz. Godiva White Chocolate Liquor
3 oz. Cream
Serve in a chocolate swirled glass. Garnish with a chocolate duo stick and fresh chocolate shavings.
Cupid's Hot Pop
From JW Marriott Desert Ridge Resort & Spa in Phoenix
2 oz. Vodka
1 oz. Cinnamon schnapps
1 oz. Strawberry puree
1 package Cotton candy-flavored Pop Rocks
Splash of simple syrup
Mix ingredients in a cocktail shaker with ice. Rim martini glass with cotton candy Pop Rocks. Strain and pour into martini glass.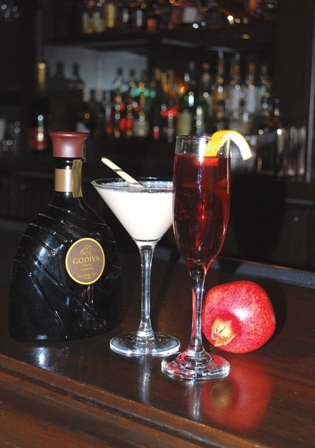 Coppa Venere
"Goddess of Love"
From Sassi in Scottsdale
1 1/2 oz. Godiva dark liqueur
1/2 oz. Godiva white liqueur
1/2 oz. Hangar One Fraser River raspberry vodka
Splash of Chambord
Serve in a chilled martini glass with a chocolate stick.
Cara Mia
"My Darling"
Also from Sassi in Scottsdale
2 oz. Pama liqueur
4 oz. Prosecco
Serve in a chilled champagne class with a lemon twist.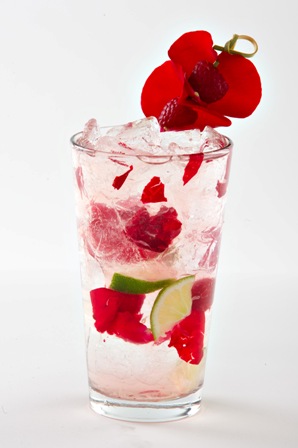 Raspberries and Roses
From Stingray Sushi in Old Town Scottsdale
1 Lime wedge, cut in thirds
3 Rose petals
1 oz. Monin Rose Syrup
2 oz. Bacardi Razz
2 oz. Moet & Chandon Champagne Brut
Muddle the first three ingredients then add Bacardi Razz and ice. Shake and pour into a highball glass. Add Champagne and remix, garnish with rose petals and raspberries.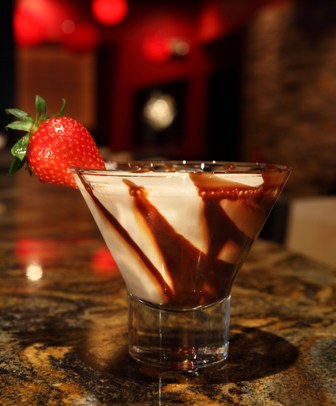 French Kiss
From Ra Sushi (several Valley locations)
¾ oz. Godiva White Chocolate liqueur
¾ oz. Godiva Dark Chocolate liqueur
½ oz. Ketel One Vodka
½ oz. Captain Morgan
¾ oz. Chambord
Pour all ingredients into a martini shaker. Shake and strain into a chilled martini glass drizzled with chocolate sauce. Garnish with a fresh strawberry on the rim.
Red Velvet Martini
From Carefree Station in Carefree
.5 oz. Van Gough Dutch Chocolate Vodka
.5 oz. Stoli Vanilla Vodka
.5 oz. Chateau Monet Framboise Raspberry Liqueur
Splash of Godiva Chocolate Liqueur
Pour all ingredients into a martini shaker. Shake and strain into a chilled martini glass rimmed with sugar and drizzled with white chocolate and raspberry sauce.