Forget the QB–these decadent and hearty recipes from Spoken Barrel will be the MVP of the Super Bowl.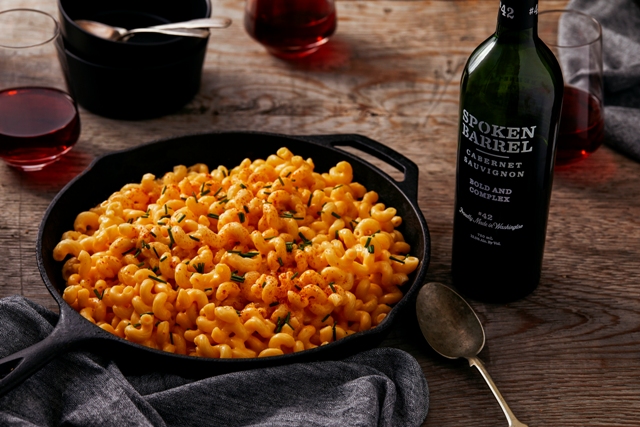 Spoken Barrel Smoked Gouda Mac and Cheese
Serves 6
1 Lb. Cavatappi Pasta
1 ½ c. whole milk
1 Tbsp. Dijon Mustard
½ lb. smoked Gouda, grated
½ lb. sharp cheddar, grated
½ tsp. cayenne pepper
1 tsp. ground white pepper
2 Tbsp. unsalted butter
1/3 c. chopped chives , optional
Directions:
In a large deep sided skillet, bring 4 c. of water to a boil over high heat. Once, boiling add the cavatappi pasta and 1 tsp. kosher salt. Bring back to a boil and stir frequently for 10 minutes, until almost all the water has been absorbed and the pasta is cooked.
Remove from the heat and stir in the remaining ingredients, stirring until the cheese is melted and everything is fully combined. 
Serve the mac and cheese with a sprinkling of the chives and eat immediately with Spoken Barrel Cabernet Sauvignon.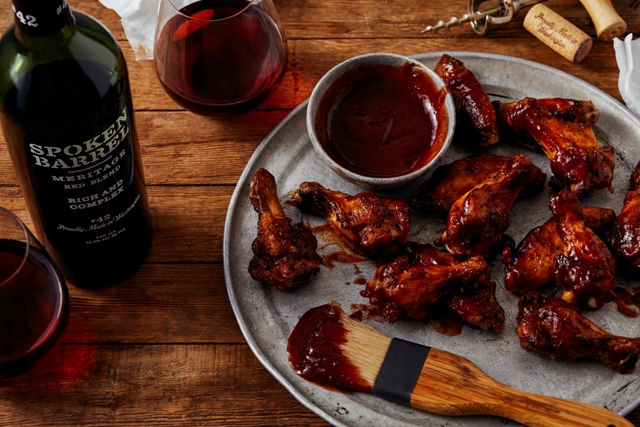 Sticky Grilled Wings with Spoken Barrel BBQ Sauce
Serves 4-5 as an appetizer; 3 as main course     
Wings:
3 lb. Chicken Wings
1 1/2 tsp. kosher salt
½ tsp. ground black pepper
1 tsp. smoked paprika
½ tsp. garlic powder
½ onion powder
2 Tbsp. olive oil
Red Wine BBQ Sauce:
1 c. Spoken Barrel Meritage
1 ½ c. ketchup
1/3 c. red wine vinegar
1/3 c. honey
2 Tbsp. Dijon Mustard
1 Tbsp. Worcestershire Sauce
½ tsp. garlic powder
½ tsp. onion powder
Directions:
Preheat a grill to 350° F. In a large bowl toss the wings with the next 6 ingredients. Arrange the wings evenly on the grill, flipping occasionally, until they are golden brown and the skin is crisp, roughly 45 minutes.
Meanwhile, in a medium saucepan bring 1 cup of Spoken Barrel Meritage to a boil. Reduce the wine by half (1/2 cup). Stir in the remaining ingredients and bring to a boil. Simmer for 20 minutes over medium low heat, until thickened and flavorful, then remove from the heat.
In a large bowl, toss the grilled wings with the red wine BBQ sauce. Serve the wings warm with any extra BBQ sauce, lots of napkins and Spoken Barrel Meritage.