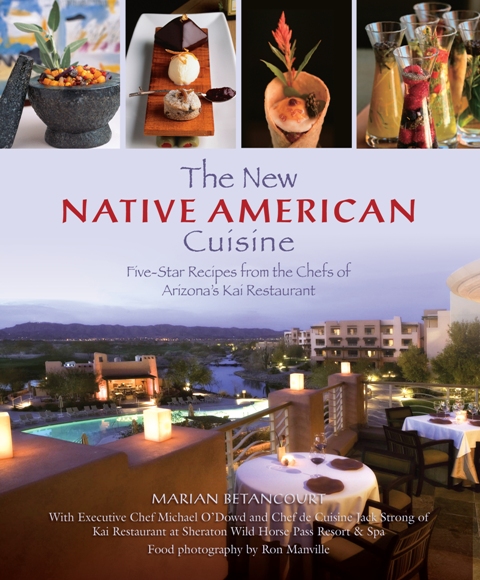 Kai Restaurant at the Sheraton Wild Horse Pass Resort & Spa in Chandler is one of the top dining destinations in Arizona–if not the nation. Kai is one of only six United States restaurants to have earned the AAA Five Diamond status. And Kai's amazing chefs, including Executive Chef Michael O'Dowd, are sharing their lip-smacking recipes with the masses in the new cookbook, "The New Native American Cuisine" by Marian Betancourt (www.globepequot.com).  Though the book doesn't come out until September, I have a sneak peek at a few of the divine recipes (check back tomorrow for another recipe from "The New Native American Cuisine".)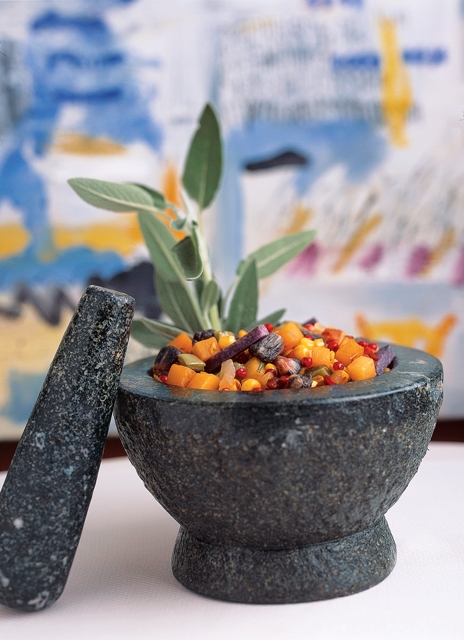 Posole and Desert Succotash
Serves 6 to 8 as a side dish
Corn, squash, and beans re the "three sisters" of Native American cuisine, and this trio is used in many ways. Here, local flavor is added with desert plants as well as huitacoche, a corn fungus that was a great favorite of the ancient Aztecs. (Today some corn is grown just to harvest this delicacy.) Posole, or hominy, is dried corn used traditionally as a base for soup, but here it gives substance to the succotash for a perfect side fish served with mushrooms and asparagus and Dry-Aged American Kobe Beef Tenderloin. It makes a great vegetable complement to any meal.
Ingredients:
3 quarts mineral water
1 posole, soaked in water
4 nopales pads (nopalitas) (see Chef's Note)
1 cup diced pancetta
1 medium butternut squash, peeled and diced small
1 cup diced Vidalia onions
3 eats roasted corn, kernels removed
4 purple potatoes, julienne
½ cup huitlacoche
3 or 4 piquillo peppers, diced small
1 tablespoon roasted garlic
1 cup chicken stock
1 tablespoon Plugra butter
Few sprigs of fresh sage, chiffonade
Cook the soaked posole in 2 quarts mineral water until tender, then set aside to cool. Peel the nopales, simmer in water until tender, cool, and dice. Set aside. In a large sauté pan cook the pancetta over medium heat. Add the squash, onions, and posole and continue to cook until softened. Next, add the corn, potatoes, huitlacoche, peppers, garlic, and nopalitos. Continue cooking until ingredients are cooked through, about 10 minutes. Stir in the chicken stock to deglaze the pan. Reduce the heat and cook another 5 or 6 minutes. Just before serving, add the butter and sage. To serve with a meat dish, place some of the succotash into a small ring mold, then unmold it alongside the meat. Rest some asparagus spears against the succotash for an elegant presentation.
Chef Strong Notes: Nopals are the pads of the prickly pear. They have a tart flavor similar to green beans. Fresh pads can be found in Latino and some gourmet markets. Use a vegetable peeler to remove the skin, then simmer the pads in water until tender. Pickled nopalitas, already diced, are available in jars or cans.