Looking for a few recipes that won't completely eat up a week's worth of calories for your Super Bowl Sunday party? Sprouts Farmers Market offers up a few good-for-you game-day options (with veggies, even!)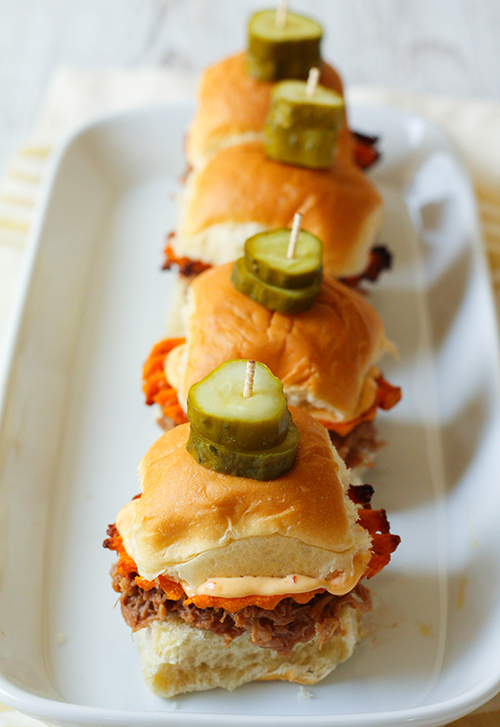 Pulled Pork Sliders with Sweet Chili Mayo Sauce
(Serves 24)
5 lb. boneless pork shoulder butt (or 8 lb. bone-in)
1 tsp. Sprouts Garlic Powder
1 tsp. onion powder
½ tsp. black pepper
1 tsp. salt
2 cups Sprouts Chicken Broth
1 bottle Sprouts Traditional Barbeque Sauce
1 cup Sprouts Mayo
¼ cup sweet chili sauce
2 tsp. Thai chili paste
2 packages of Sprouts Hawaiian Rolls (24 rolls total)
1 bag of sweet potato fries
Pickle slices
Toothpicks for garnish
Trim as much of the fat from the pork shoulder as possible. If you bought a bone-in roast, trim the fat and slice the roast into large chucks (discard the bone).
Rub the pork with the garlic powder, onion powder, black pepper and salt. Place into an electric pressure cooker and cover with the chicken broth. Cook on manual for 52 minutes.
Halfway through, bake the sweet potato fries according to package directions.
In a small bowl, whisk together the mayo, sweet chili sauce and Thai chili paste.
When the pork is done, use quick release on your pressure cooker. Remove the pork and shred (Pro tip: place pork in a stand mixer bowl and use a paddle attachment for quick shredding!). Pour in the barbeque sauce and mix well.
To assemble: Place a couple tablespoons of meat mixture onto each roll. Top with a crispy sweet potato fry and a dollop of sweet chili mayo. Thread a couple pickle slices onto a toothpick and insert into the top of the roll.
1/2 yellow onion, diced
Avocado oil
1 Tbsp. minced garlic
3 cup kale leaves, torn into small pieces
1 15 oz. can Sprouts No Salt Added Black Beans, rinsed and drained
1 15 oz. can Sprouts No Salt Added Petite Diced Roma Tomatoes, drained
1 tsp. turmeric
1/2 tsp. black pepper
12 whole grain or corn tortillas
1 1/2 cup Sprouts Shredded Mozzarella Cheese
Sprouts brand condiments (optional): Organic Ranch Dressing, Organic Black Bean Spicy Dip, Mild Salsa, Hatch Chile Salsa
Pre-heat a large skillet over medium heat. Add 1-2 Tbsp. avocado oil to the skillet to coat the bottom.
Add diced onion to the pan and let saute for five to 10 minutes, until the onions start to soften. You can let these go longer if you want more caramelized onions
Next, add the garlic, and saute it with the onions for another five minutes.
Then, add the kale leaves, black beans, tomatoes, turmeric and black pepper.
Stir then saute for an additional five to 10 minutes to let the kale leaves wilt and the flavors combine.
Remove the veggie mixture from the skillet into a bowl and set aside.
Carefully wipe the skillet down and add some additional avocado oil. Keep it on medium heat.
Next, you will assemble your quesadillas. Cut each tortilla down the middle, so you have 24 halves.
Scoop two tablespoons of shredded mozzarella onto 12 of the halves.
Add one to two tablespoons of the veggie mixture on top of the cheese topped halves, then another two tablespoons shredded mozzarella on top of the veggie mixture.
Top with the remaining 12 tortilla halves.
Cook your quesadillas to their desired done-ness, flipping half way through.
Remove the quesadillas from the skillet and let them cool on a wire rack.
You can leave them as is, or have a little fun with them and turn them into footballs. Add your condiment of choice to an empty squirt bottle. Draw football laces onto each quesadilla.
Serve your SUPERfood Quesadillas with the remaining condiments, and get ready to cheer on your favorite team.
1 large head cauliflower (about 4 cups of florets)
3 Tbsp. Sprouts Olive Oil
½ tsp. Sprouts Ground Cumin
½ tsp. turmeric
¼ tsp. cayenne pepper
¼ tsp. ground chipotle pepper
Pinch of salt
1 ½ cups Sprouts Silken Tofu
4 oz. unsweetened cashew milk or soy milk
4 oz. can Sprouts Organic Diced Green Chiles, liquid drained
½ cup nutritional yeast
¼ cup Sprouts Fire Roasted salsa
1 chipotle pepper canned in adobo sauce
Salt, to taste
1 cup dairy-free shredded Pepper Jack cheese
Sprouts White Corn Tortilla Chips
Cilantro
1 can nacho-sliced jalapenos
Preheat oven to 400° F.
Add cauliflower florets to a large mixing bowl and toss with olive oil, cumin, turmeric, cayenne pepper, chipotle pepper and salt.
Place the florets in a single layer on a baking sheet. Roast in oven for 22-24 minutes.
Remove from oven and allow to cool for five minutes.
Add the cauliflower, silken tofu, milk, diced chiles, nutritional yeast, salsa, chipotle pepper and salt in a food processor bowl or high-speed blender. Process on high until smooth.
Pour the cauliflower mixture into a saucepan and add the shredded cheese.
Heat over medium-low, stirring occasionally, until cheese is melted and the dip is heated through.
Serve the dip warm and top with fresh cilantro and the nacho-sliced jalapenos, if desired.
Serve with tortilla chips.