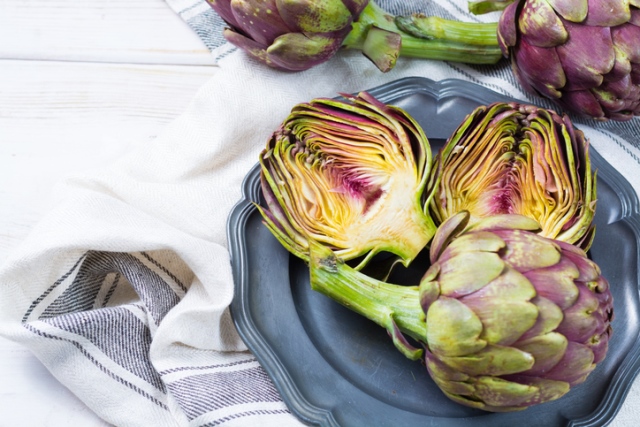 Don't just rely on oysters and chocolate. Jamie Miller of Village Health Clubs & Spas provides healthy recipes–featuring aphrodisiacs like beets, honey, artichokes and figs–to swoon your health-conscious significant other this Valentine's Day.  
Beets – Maple-Roasted Butternut Squash and Beets
1 medium butternut squash, peeled, seeded and chopped
1 large red beet, peeled and chopped
1.5 T grapeseed or olive oil
1-1/2 tsp kosher salt
2 tsp ground cinnamon
1 T pure maple syrup
For Serving:
Zest of 1 orange optional
Dried oregano
Toasted walnuts
Pistachios
Preheat the oven to 400 degrees F. Peel and chop the butternut squash and the beet into ½" cubes. Place them in a mixing bowl and add oil, salt, cinnamon, and maple syrup. Toss well using your hands and make sure the veggies are all evenly coated. Lay the vegetables out on a large (or two smaller) baking sheet in a single layer. Roast vegetables for 40 to 50 minutes, stirring once half-way through roasting. Place oven on the broil setting for 3 to 5 minutes in order to crisp up the veggies. Remove from the oven and sprinkle with dried oregano, orange zest, and additional salt if desired. Serve with toasted walnuts and pistachios.
Honey – Honey Garlic Shrimp
1/4 C honey
1/4 C low-sodium soy sauce or coconut aminos
1 T minced garlic
1 lb medium uncooked shrimp, peeled and deveined
2 tsp olive oil
Optional: 1 tsp minced fresh ginger
Whisk the honey, soy sauce, garlic, and ginger (if using) together in a medium bowl. Place shrimp in a large zipped-top bag or tupperware. Pour 1/2 of the marinade mixture on top, give it all a shake or stir, then allow shrimp to marinate in the refrigerator for 15 minutes or for up to 8-12 hours. Cover and refrigerate the rest of the marinade for step 3. (Time-saving tip: while the shrimp is marinating, I steamed broccoli and microwaved some quick brown rice.) Heat olive oil in a skillet over medium-high heat. Place shrimp in the skillet. (Discard used marinade.) Cook shrimp on one side until pink–about 45 seconds–then flip shrimp over. Pour in remaining marinade and cook it all until shrimp is cooked through, about 1 minute more. Serve shrimp with cooked marinade sauce and a garnish of green onion.
Artichokes – Grilled Garlic Artichoke
3 artichokes
1 lemon
1/8 cup olive oil
4 cloves garlic, chopped
1 tsp salt
½ tsp  pepper
Fill a large bowl with cold water. Squeeze the juice from one lemon wedge into the water. Trim the tops from the artichokes, then cut in half lengthwise, and place halves into the bowl of lemon water to prevent them from turning brown. Bring a large pot of water to a boil. Meanwhile, preheat an outdoor grill for medium-high heat. Add artichokes to boiling water, and cook for about 15 minutes. Drain. Squeeze the remaining lemon wedges into a medium bowl. Stir in the olive oil and garlic, and season with salt and pepper. Brush the artichokes with a coating of the garlic dip, and place them on the preheated grill. Grill the artichokes for 5 to 10 minutes, basting with dip and turning frequently, until the tips are a little charred.

Figs – Roasted Fig and Walnut Parfait
2 ripe figs cut into sixths and roasted
2 T walnuts, roasted
1 C plain Greek yogurt
Preheat the oven to 375 degrees F. Chop the figs into quarters or sixths and place them on a baking sheet cut-side up. Also place the walnuts on the baking sheet. Roast the walnuts for 5 to 8 minutes (until they're toasted and have some color), and the figs for 15 to 20 minutes, or until juices are running out and they are soft when poked. Remove figs from the oven and allow them to cool (to speed up this process, stick them in a bowl and put them in the freezer or refrigerator). Add a layer of yogurt to a glass, followed by a layer of roasted figs and walnuts, followed by more yogurt and figs and walnuts.