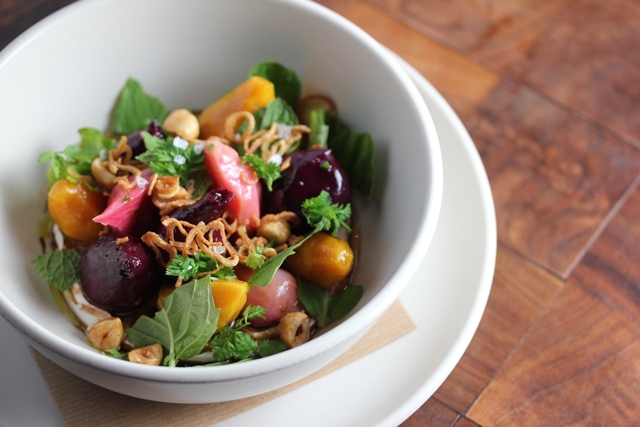 Easter Sunday is the perfect time to show off your brunchtime skills, especially with a little help from Chef Jacques Qualin of J&G Steakhouse. Here, Chef Qualin gets you started with two showstopping recipes: warm spring beets and grilled lamb porterhouse (check in next week for two more scrumptious recipes to try).
Warm Spring Beets and Fresh Goat cheese, Field Mache and Lemon Oil
For the beets: cook each color separately with the following recipe:
1 Qt water
1 T salt
1 oz red wine vinegar
3 bunches (3 colors) baby beets
Combine in a one-gallon pot and bring to a simmer. Cook gently until beets are tender. Rub off skins with a clean side towel, then trim and cut into ¼'s.
Use 4 oz beets per portion and microwave for 30 seconds before plating.
For the hazelnuts:
1 oz hazelnuts
1 T corn syrup
Pinch salt/pinch of cayenne
Mix well then spread onto a sheet tray line with a silpat. Cook in a 325 degrees oven until golden brown. Let cool at room temp and separate nuts; then crack gently. Store in an airtight container with humidity packets.
For the lemon oil:
1 oz lemon peel, pith removed
1 tsp ginger, peeled and rough chopped
¼ tsp Salt
5 oz extra virgin olive oil
Warm to 150 degrees and then blend in vita prep until smooth.
To serve:
4 oz assorted warm beets
Aged balsamic as needed
Maldon sea salt
1 tbsp hazelnuts
6-8 leaves Mache
4 medium-size basil leaves
Lemon oil as needed
Ground black pepper
1 oz Goat cheese crumbled
Arrange the beets on the center of the plate. Sprinkle the beets with balsamic, then season with Maldon salt. Sprinkle the hazelnuts over all, and then scatter with the basil leaves and the Mache. Drizzle the lemon oil over all and finish with a little freshly milled black pepper and the goat cheese.
Grilled Lamb Porterhouse, Tangy BBQ Sauce, Favas and Spring Onions
For the lamb: for one portion
2ea lamb porterhouse, 8 oz
salt/black pepper
Thyme leaves
Olive oil
Barbecue sauce, as needed
A la minute season lamb with salt and pepper and press thyme leaves into both sides. Brush with barbecue sauce and grill, basting often to temp.
For the sauce:
8 oz ketchup
2.5 oz passion fruit syrup (reduce passion fruit puree w 10% sugar to syrup)
1 oz red wine vinegar
½ oz Kecap manis
½ oz Nam pla
¾ oz molasses
1 T garlic powder
½ oz onion flakes (or powder)
1 T liquid mesquite smoke
¼ oz chipotle in adobe
1 tsp salt
2 tbsp sesame oil
Combine all but sesame oil in blender and puree until smooth. Reduce speed to low and drizzle in sesame oil.
For onion compote:
4.5 oz spring onions, cut in ½, then into 1/8s
½ oz evo
1 tsp salt
Combine all and mix in a bowl. Heat a large sauté pan until smoking hot and add enough onions to cover in an even layer. Char onions very well, then spread onto a hotel pan to cool at room temp. Reheat in the salamander as necessary.
To serve: for one order
2 oz potato puree
1 oz onion compote
½ oz favas, blanched and split
½ oz peas or green beans (cut into 1/2' pieces) blanched
½ T savory, lightly chopped
Combine all in a sauté pan and cook until hot and glazed. Season with salt and pepper.