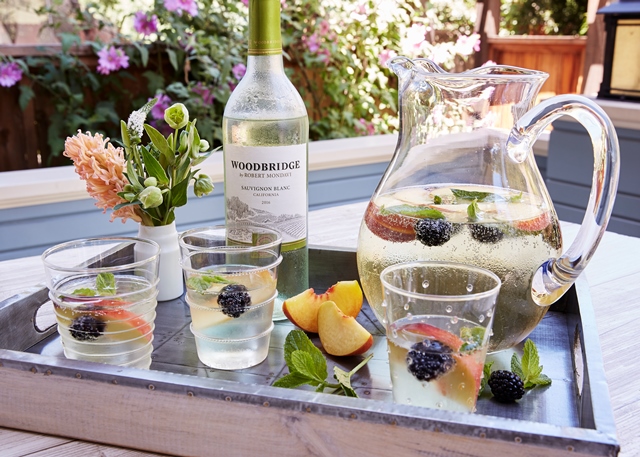 Now that it's officially spring, it is time to bust out the fruity drinks and light spritzers. We love this refreshing, ready-for-the-patio option from Woodbridge by Robert Mondavi. (Psst: Serve it for Easter brunch!)
Summer Spritzer
Serves 6-8
1 regular sized bottle Woodbridge by Robert Mondavi Sauvignon Blanc, chilled
1 medium lemon, seeds removed and cut into 1/8-inch wedges
3 medium summer peaches, pitted and cut into ¼-inch wedges
2 pints blackberries
2 cups sparkling water, chilled
(Spritzer tips: Want to make it a little stronger? Cut the sparkling water by half.)
1. Make the spritzer mix: In a large pitcher, combine the Woodbridge by Robert Mondavi Sauvignon Blanc, lemons, peaches and blackberries.
2. Refrigerate for an hour, overnight, or up to three days.
3. Serve! When ready to serve, stir in the sparkling water and enjoy!