As promised, here's another tempting recipe from Kai Restaurant at Sheraton Wild Horse Pass Resort & Spa in Chandler via the soon-to-be-released "The New Native American Cuisine" cookbook by Marian Betancourt.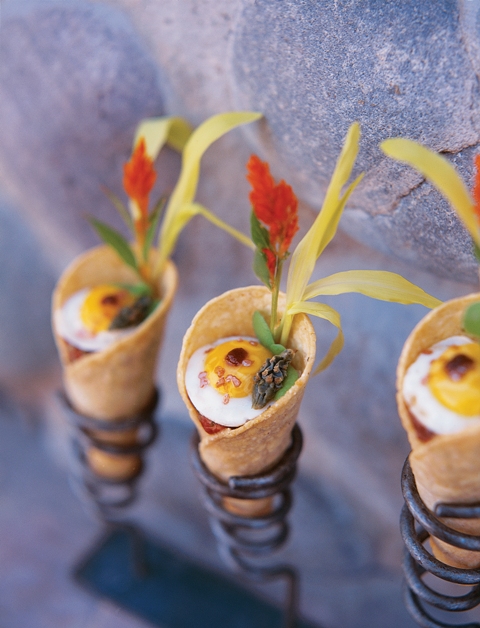 Buffalo Tartare with Prairie Quail Egg and Kai Sweet and Sour Sauce
Serves 4
Buffalo meat is leaner and sweeter than beef and has less cholesterol. However, you can use this same recipe with Kobe beef if you like. The cornichons and fried caper berries add some sweetness and tang to the dish.
Ingredients:
8 teaspoons finely diced shallots
4 teaspoons finely diced noplitas (pickled cactus pads)
2 tablespoons salt-free butter
1 garlic head
12 ounces center-cut buffalo tenderloin, diced small
4 teaspoons crushed capers
2 anchovy fillets, cut fine
2 teaspoons grain mustard
Salt and pepper to taste
4 quail eggs
8 caper berries, fried crisp
8 cornichons
2 teaspoons Kai Sweet and Sour Sauce (recipe below)
Wrap the garlic head in tin foil and roast it in a 350-degree oven. When soft, remove four cloves from the head, peel and mash them, and set aside. Make the brunoise of the shallots and nopalitas, by sautéing them slowly in butter over a medium heat until tender. Combine the garlic, brunoise, diced buffalo tenderloin, capers, anchovies, and mustard in a bowl and add salt and pepper to taste. Sauté the quail eggs in a nonstick pan until firm. For each serving, place a portion of the buffalo mixture into a ring mold, tuna can size, and center it on the plate. Unmold, top with a quail egg and sprinkle with fried caper berried and cornichons, and drizzle some Kai Sweet and Sour Sauce around the plate. (At Kai the buffalo tartare is served in cones made with cornmeal.) Pair this with a light red wine such as a Bordeaux from Margaus or Nebbiola from Italy. An earthy Burgundy would also complement the dish.
Kai Sweet and Sour Sauce
Makes 3 to 4 cups
At Kai this tangy sauce is a tasty accompaniment to meat, sandwiches, or eggs. You may find many uses for this sauce at home.
Ingredients:
2 cups chopped red onions
½ cup chopped red bell pepper
½ cup chopped Serrano chile
½ cup chopped poblano chile
1 jalapeno chile, chopped
2 tablespoons oil (approximate)
3 cups sugar
1 quart rice vinegar
In a saucepan, sweat the onions, peppers, and chiles in some oil until tender. Add the sugar and cook over medium heat until caramelized. Add the rice vinegar and simmer for 20 minutes. Strain and cool.