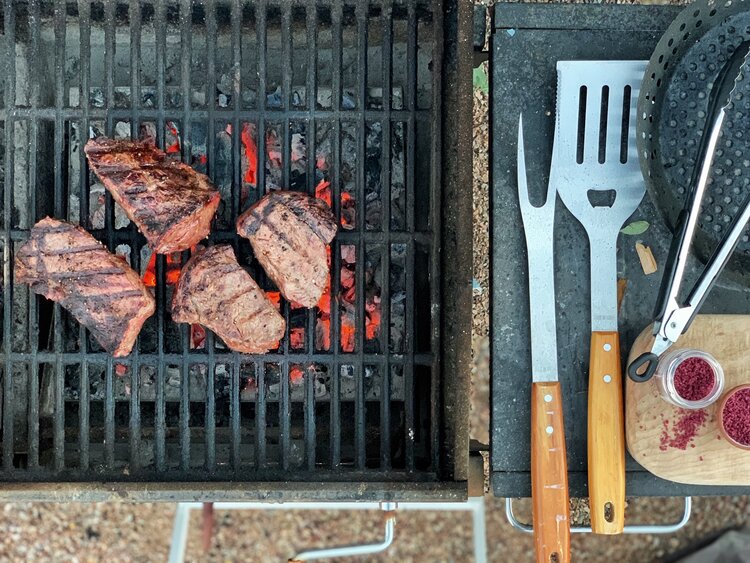 One of our favorite local purveyors, Tucson's Desert Provisions, has announced its newest offering, Red Wine Salt–a Desert Provisions and Sand-Reckoner Vineyards collaboration. As lovely spring days mean more time at the barbecue, try Desert Provisions' Grilled NY Strip Steak with Red Wine Salt to jazz up your steak repertoire.
Grill time: 15 to 17 minutes; allow for 30 minutes to sit prep and season. Serves four.
Remove steaks from refrigerator and allow to rest and come up to room temperature. Meanwhile, prepare hardwood charcoal.
Gently pat steaks with a paper towel to remove any excess water. The drier the surface, the less likely the steak will steam rather than cook. Season with freshly cracked black pepper and generous amounts of Red Wine Salt. Use your hands to pat and rub salt and pepper onto both sides of meat. Allow to sit seasoned for 20 to 30 minutes while coals get hot.
Using paper towels or a brush, lightly oil grill grates. Place steaks on grill when coals are hot (about 400 degrees) and cook for 8 to 10 minutes. Turning only once, flip when they easily release from the grill. Continue cooking on opposite side for 5 to 7 minutes or until steaks have an internal temperature of 140 degrees or you reach your desired level of doneness.
Allow to rest on wood cutting board for 4-5 minutes. Plate and serve. Finish with Red Wine Salt to taste.
Cook's notes: Round out this meal with Desert Provisions' Grilled Portobello Mushroom recipe.
Depending on your type of steak, thickness, desired level of doneness, and weather, cooking times may vary.