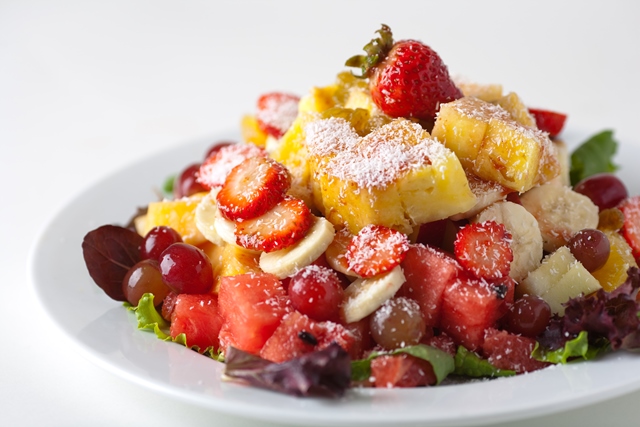 Looking for the ultimate potluck dish? Try out this rainbow-hued Caribbean salad from Pita Jungle that is sure to please all party-goers.
Caribbean Salad
½ cup chopped iceberg/spring mix
½ cup fresh blueberries
½ cup fresh raspberries
½ cup fresh blackberries
1 sliced banana
12 fresh quartered strawberries
¼ cup of red seedless grapes
¼ cup of chopped pineapple
1 tbsp. small raisins
Juice of ½ orange
Shredded coconut for garnish
Berry Vinaigrette:
4 cups blueberries, raspberries, blackberries and strawberries
½ cup balsamic vinegar
½ cup sugar
Berry vinaigrette preparation: Wash and de-stem berries. Place berries, vinegar and sugar in a blender and emulsify for about 1 to 2 minutes on high speed. Fruit salad: Wash and chop fruit as needed. Mix with one tsp. of orange juice (half of an orange) on banana to keep fruit from browning.  
To serve: Plating: place iceberg/spring mix on a plate. Place fresh fruit on the plate and drizzle the berry vinaigrette over the salad. Top with raisins and garnish with shredded coconut.