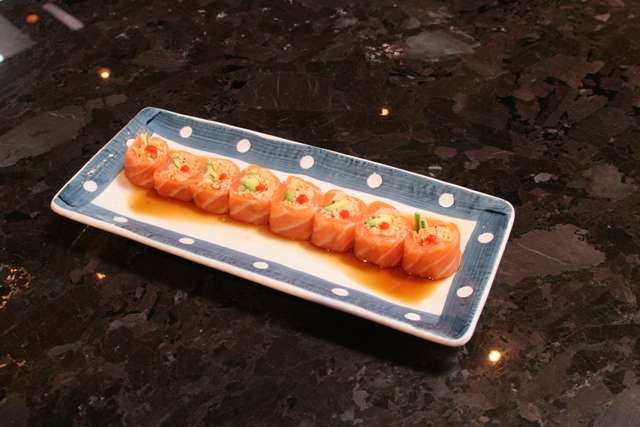 Blue Wasabi, with locations in Scottsdale and Gilbert, is known for its outside-of-the-box sushi rolls. Lucky for home cooks, the restaurant is sharing the recipe for one of its most delish offerings: the popular Dam Jumper sushi roll.  
Dam Jumper (Sushi Roll)
Ingredient and Supplies List:
12 ounce sashimi-grade salmon fillet
Spicy crab mix
Avocado (About 1/4 an avocado sliced into roughly quarter-inch segments)
Cucumber (Four 3-inch by 0.5-inch slices, peeled with about 15 percent skin and 85 percent flesh)
Sriracha hot sauce
Ponzu sauce (Ponzu is a seasoned Japanese soy sauce, accented with citrus)
Cutting Board
Food Service Film
Sushi Mat
Sharp knife
Start with an approximately 12-ounce sashimi grade salmon fillet. Slice the salmon into three length-wise blocks. Take one block of the salmon and starting on the "short" side of the block, slice it into about seven 0.6 of an ounce slices. Lay a sheet of food service film about 10 inches long on your cutting board, lay the sliced salmon horizontally on the film. (Each slice of salmon should slightly overlay the piece before it.) Once all of the salmon had been layed, place about 2.5 ounces of spicy crab mix along the middle of the salmon perpendicular to how you laid the salmon. Next, place sliced avocado alongside the spicy crab, then add the sliced cucumber alongside the avocado. Next, roll the salmon around the ingredients you have laid onto the center of the salmon, use the film to assist you in wrapping the salmon over the ingredients and tucking alongside the filler ingredients. Very gently, press the salmon around the filler to shape the roll. Once the roll is shaped, use a sushi mat to – once again – gently but firmly shape and tighten the roll. At this stage, the roll is ready to be sliced into eight pieces. Using a very (very) sharp knife, make your cuts – keeping each piece of roughly equal size. Once your cuts are made, carefully remove the food service film from the roll. You are now ready to plate the roll and add the sauce. Place the pieces of roll on their side so the salmon is around the sides and you can see the crab, cucumber and avocado on the top of the roll facing upward. Place a small dollop of sriracha hot sauce on top of each slice, then drizzle ponzu across the entire roll.