I hope you enjoyed yesterday's excerpt, Meringue Crispies, from Sur la Table's and Cindy Mushet's Baking Kids Love. Here's another yummy recipe to try with your tots–perhaps for a Fourth of July barbecue next week? With the weekend finally upon us and the temps starting to rise outside, there's not excuse not to spend the day in your air-conditioned kitchen whipping up this easy, yummy apple pie.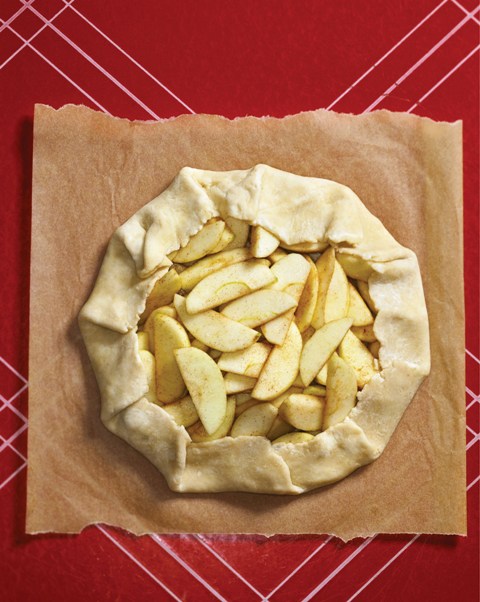 Rustic Apple Pie
Enough for 6 to 8 pie peeps
Ingredients
1 recipe Easy Pie Dough, prepared through step 6
Filling:
4 large (about 1¾ pounds total) Granny Smith apples
¼ cup sugar
¼ teaspoon ground cinnamon
2 teaspoons cornstarch
To finish:
1 tablespoon unsalted butter, melted
2 teaspoons sugar
Tools
Measuring cups and spoons
Vegetable peeler
Cutting board
Paring knife
Large bowl
Wooden spoon
Pastry brush
Metal spatula
Oven mitts
Cooling rack
1. Before you begin
Position an oven rack in the bottom ¹⁄³ of the oven, and preheat the oven to 400°F.
2. Make the filling
Peel and core the apples. Cut the apples into ¼-inch-thick slices. Transfer the slices to the large bowl. Sprinkle the sugar, cinnamon, and cornstarch over the apples. Using the wooden spoon, gently stir the fruit until it is evenly coated with the sugar mixture.
3. Assemble the pie
Remove the rolled-out pie dough on the baking sheet from the refrigerator. Spoon the apple filling onto the circle, creating an even layer in the center and leaving a 2-inch-wide border uncovered around the edge of the dough. Fold the border up and over the filling, gathering the dough into pleats so it fits snugly around the fruit. The center of the pie will be open.
4. Finish and bake the pie
Brush the pleated dough edges with the melted butter, then sprinkle them with the sugar.
Bake for 40 to 50 minutes, until the crust is a deep golden brown and the fruit is juicy and bubbling. Use the metal spatula to lift the pie slightly so you can look underneath. The bottom of the crust should be golden brown. Using the oven mitts, transfer the pan to a cooling rack and let the pie cool for 10 to 15 minutes before serving. Serve warm with a big scoop of ice cream.
Playing around
You can substitute other fruit for the apples. Try peaches, plums, cherries, or berries. If the fruit is very tart, like sour cherries or tart plums, you may want to increase the sugar to about ½ cup. If it is really juicy, increase the cornstarch to 1½ tablespoons.