If any of you are like me, a sweetness craving can hit at any moment! Luckily, here are some several brands that pair so well together, and are delivered straight to you door.
Whoopie Pies, Cake Pops, Cookies, Swirling Cinnamon Buns, and MORE Thanks to Baketivity:
Highlight Ingredients: Baketivity, RED Chocolate, & Broma Spread
If whoopie pies were your dessert of choice as a kid, you're going to want to try these upgraded versions with a milk chocolate coconut filling finished off with a dark chocolate almond drizzle. Baketivity's baking kits will walk you through how to easily whip up some whoopie pies with premeasured ingredients.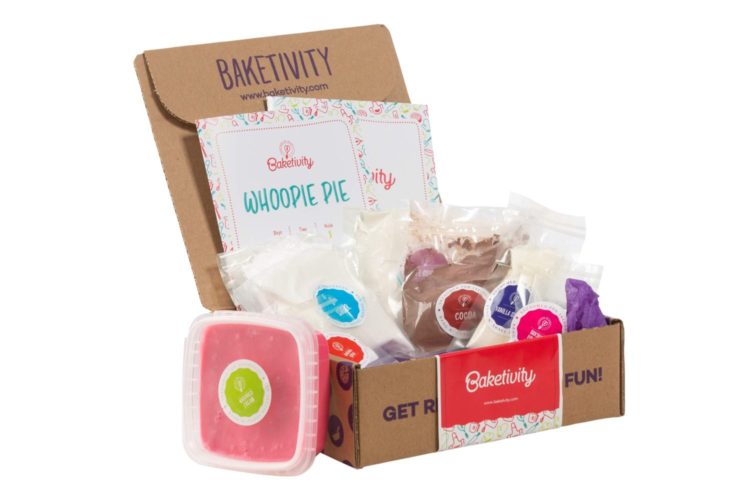 Follow the clear instructions in the kit and when making the whipped cream filling, throw in some chopped up coconut and chocolate pralines by RED for a tropical twist. Finish it off by melting down some Broma Spread to drizzle over the pies for an ultimate chocolatey finish!
RED Chocolate Price: $14.99 – Available on Amazon
Broma Spread: $13.99 – Available on Amazon
Ancient Grain Chips w/ Dark Chocolate Almond Spread
Highlight Ingredients: Pop Bitties & Broma Spread
Make Broma's Dark Chocolate Almond Spread the star of the show by using it as a dip! It's definitely a eat by the spoon type of spread but with Pop Bitties new air-popped ancient grain chips in Pink Himalayan Salt, this combo hit's all the notes of sweet, salty, crunchy, creamy goodness. Both products use all-natural, non-GMO ingredients, so you won't feel guilty while satisfying your sweet tooth!
Pop Bitties Price: $14.99 – Available on Amazon
Broma Spread: $13.99 – Available on Amazon
Gourmet Popcorn Pistachio Mix
Highlight Ingredients: Baked Cravings & ProNutz
For all your at-home movie nights that are needing a popcorn switch-up, Baked Cravings has a popcorn sampler with caramel, chocolate, and funfetti selections!
Shake in ProNutz' salted and roasted shelled pistachios for that beloved sweet, salty combo with a nutty bite. With these pistachios, you're even getting some added probiotics— this counts as a balanced snack right?
Baked Cravings Popcorn Sampler: $7.95
ProNutz: $5.99
Chilled Affogato
Highlight Ingredients: Gelato Boy & Caveman Coffee Co.
Affogato is typically eaten with a shot of hot espresso but this is a foolproof alternative for keeping things a little bit cooler for a longer amount of time. Scoop up some banana split gelato from Gelato Boy and pour over Caveman Coffee's Vanilla Cold Brew Latte for the ultimate caffeinated treat on those warmer days.
Gelato Boy Price: $12.00
Caveman Coffee Co. Price: $40.00 – Available on Amazon
"Homebrewed" Beer Float
Highlight Ingredients: Brewferm & Gelato Boy
Rootbeer floats are good, beer floats are great, and homemade beer floats are hard to beat! Opt for Brewferms Sinister Stout or Dubbel Dame home-brew beer mixes for your own chocolatey brew that will pair perfectly with Gelato Boy's classic Very Vanilla pint! These mixes allow you to enjoy your very own brew without having to wait for the fermentation process to set in.
Brewferm Price: $29.99 – Available on Amazon
Gelato Boy Price: $12.00
Frozen "Hot Chocolate" with Marshmallows
Highlight Ingredients: Campfire Marshmallows & Gelato Boy
Get the essence of frozen hot chocolate with the addition of mini marshmallows to some quality chocolate ice cream. Campfire Marshmallow's patented recipe from 1917 guarantees a perfectly chewy topping and added sweetness to Gelato Boy's Midnight Chocolate Flavor. It's like Christmas in August!
Campfire Marshmallow Price: $1.99
Gelato Boy Price: $12.00
Chocolate & Wine
Highlight Ingredients: ChocZero & PureWine
This is a no-brainer combination but make it even better with ChocZero's sugar-free, low carb chocolate squares and PureWine's wine purifiers (sorry, wine not included). You'll get your chocolate fixing without any of the added guilt and all the wine you want without any of the headaches or congestion. This is indulgence as a healthier alternative!
ChocZero Price: $4.50 – Available on Amazon
PureWine Price: $9.99 – Available on Amazon