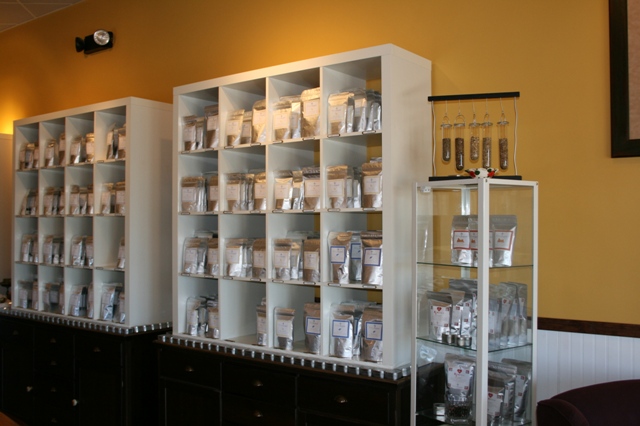 Eggnog and hot cocoa aren't the only drinks that can help you ring in the holiday season. Phoenix's WhiteAugust Tea Company (which opened in Phoenix earlier this year) is offering a new seasonal blend of loose leaf tea, "Home for the Holidays." This very merry blend is a gingerbread flavored Rooibos with hints of orange peel and safflower.
In addition to high quality, loose leaf teas from around the globe, WhiteAugust Tea Company offers more than 100 custom tea blends, plus handmade pottery and tea accessories. I'm thinking some "Home for the Holidays" and a cute tea pot might just make the perfect hostess gift this season.
About WhiteAugust Tea
WhiteAugust Tea Company carries a tea for every taste, including white, green, oolong, black and herbal teas, plus tea blends that have been specially formulated for iced tea. In addition to selling loose leaf tea by the gram, every tea can be brewed to enjoy in the store or in a to-go cup. The store also carries White Label Royal Blend teas, typically available only once a year and Reme-Teas, custom formulated herbal teas with healing properties. A Baby Tea line features caffeine free, sugar-free herbal teas, made from fruits and flowers, which steep up varying shades of pink. For the ultimate tea lover, the Bathing BeauTea spa series are tea bags filled with sencha green tea and a choice of mint, rose petals, rosemary or chamomile. Added to bath water, these tea bags help to heal problem skin and ease the sting from sun burns. WhiteAugust Tea Company is located at 3607 E. Bell Rd., Ste. 1, Phoenix. 602.569.0588, http://www.whiteaugusttea.com/.
This just in:
From November 28th until December 24th WhiteAugust Tea is having a storewide sale!
-Save 10% on purchases form $20 to $49.99!
-Save 15% on purchases from $50 to $99.99!
-Save 20% on purchases over $100!
This sale is good on all items in the store (excluding artwork).