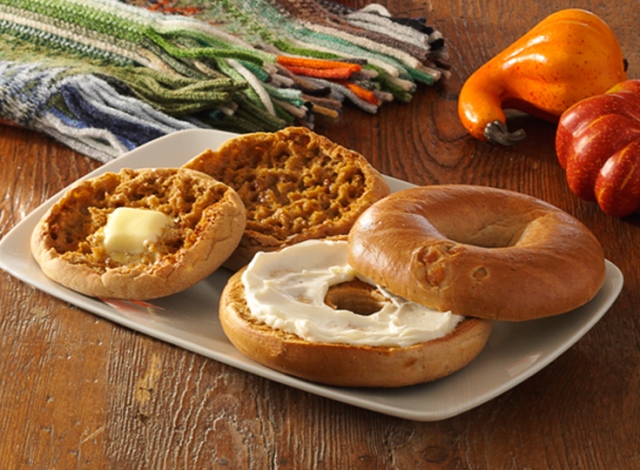 So, September is here. We have made it passed Labor Day. So it is OK to officially discuss pumpkin spice, right? Hitting store shelves this month (through November) is Thomas' Pumpkin Spice English Muffins and Bagels. These limited-edition morning treats are made with real pumpkin, spices and cinnamon, resulting in a breakfast that isn't overly sweet but can surely satisfy that pumpkin spice craving that hits this time of the year. (We just love the little pockets of soft, savory pumpkin found in the bagels.) Though a small slick of butter is all you need to complement these delicious a.m. eats, here are two recipes for those wanting a real decadent start to the day (or perhaps dessert).
Pumpkin Vanilla English Muffin French Toast 
3 Thomas' Pumpkin Spice English Muffins, split
4 tbsp unsalted butter, divided
½ cup milk
2 large eggs
1 tbsp light brown sugar
1 tsp vanilla extract
1 tsp ground cinnamon
¼ tsp ground nutmeg
¼ tsp ground ginger
Preheat a large non-stick skillet on medium. Melt butter in skillet. In a large shallow dish (like a pie pan), whisk milk, eggs, brown sugar, vanilla, cinnamon, nutmeg and ginger. Split the Thomas' Pumpkin Spice English Muffins and dip both sides into mixture, coating evenly. Place English muffins in hot, buttered skillet and cook until golden brown, 2-3 minutes per side. Add additional butter before cooking on opposite side. Remove from heat and place on a paper towel-lined-plate to keep warm while cooking remaining muffins. Stack muffins, drizzle with syrup and finish with a dollop of whip cream and a sprinkle of nuts.
Serving Suggestions:
pure maple syrup
powdered sugar
whipped cream
chopped pecans, or other nuts
Pumpkin Spice Sticky Buns
6 Thomas' Pumpkin Spice English Muffins, coarsely chopped
3 tbsp butter, melted
1 egg
1 tbsp milk
1/3 cup white sugar
1 tbsp pumpkin pie spiceSticky bun coating:
1/3 cup butter, melted
1/2 cup brown sugar
1/2 cup pecans, chopped
Preheat oven to 350°. For the bun coating, combine butter, brown sugar and chopped pecans in a small bowl. Pour mixture into 8-inch round cake pan. Split and chop the Thomas' Pumpkin Spice English Muffins then place in a large bowl. In a small bowl, combine melted butter, egg and milk. Whisk together and pour over English Muffins. Toss to coat. In another small bowl, combine white sugar and pumpkin pie spice. Pour over the English muffins and toss. Pour mixture into cake pan that contains the coating, pressing down slightly. Bake for 16-20 minutes until golden brown. Invert cake pan onto a serving plate. Let rest for 1-2 minutes and remove cake pan.