Getting children to eat healthy foods and get in their daily intake of fruits and veggies can be a struggle for many parents. Thankfully, food pros out there are finding ways to make healthy eats like spinach and chia seeds for edible for picky little eaters. Here are our favorite new snacks and treats for the littlest taste buds.


Fruttata is the maker freeze-dried fruit crisp snacks (freeze drying is the process of removing moisture from food through a dryer at -40°F) which just launched in January. Fruttata uses only the freshest tropical fruits to create a yummy snack for kids and parents alike that retains all the goodness contained in fruit. Plus, Fruttata's crunchiness gives munchers the same satisfaction we seek as when reaching for a potato chip or crackers. Though several flavors are available (apple, pineapple and banana crisps, which launch this month), our favorite is the tropical blend apple, banana, pineapple and mango. This was the perfect to-go snack for Saturday morning soccer games Plus, a serving is only 35 calories. $1.79- $9.79 and can be purchased nationwide on Amazon.com and Costco stores.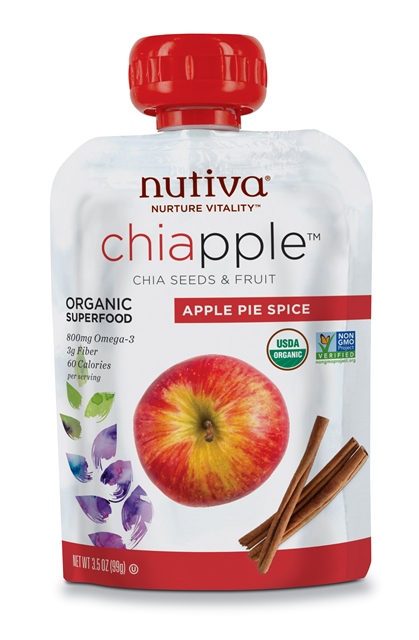 Nutiva, the popular brand of coconut oil, chia seeds, hemp oil and more, has launched a brand new product that serves as a great energy boost for kiddos and adults on the move: CHIApple. The portable pouches–simply throw some in your purse, diaper bag or office drawer, as they don't need refrigeration–contain a blend of organic fruit, spices and whole chia seeds, acting as a great source of omega-3s and fiber. Flavors include Pure Apple, Apple Pie Spice and Coconut Mango. If your kiddo likes applesauce, they will be a fan of CHIApple. The taste is similar to the popular jarred snack, and the texture is super-smooth. CHIApple can be eaten alone or added to a smoothie or oatmeal for a fiber or antioxidant boost. CHIApple is available in a 3.5-oz. squeeze pouch (individually $1.99) or in a four-pack ($6.89) as well as a 24-oz. glass jar ($5.79) and can be found at Whole Foods.


Ice pops are pretty much every kid's favorite treat, right? Especially once summer rolls around. Instead of stuffing kids with sugar, Ruby Rocket's ice pops uses an all-natural blend of real fruits and veggies to create sweet, tasty ice treats that little ones will gobble up. The current roster of flavors include Rock-It Red (sweet potatoes, strawberries, carrots, beets and bananas); Orbit Orange (sweet potatoes, strawberries, carrots, oranges and lemon); and Galaxy Green (avocados, kiwis, spinach, apples, bananas and lemons). Every Ruby Rocket's pop is gluten-free, dairy free, Kosher and vegan certified, and boasts probiotics and contains the lowest sugar content of any ice pop on the market. Best of all, they taste delicious–kids will be none the wiser that the green ice-pop mustache that they are sporting all summer long actually contains spinach. Stay tuned as Ruby Rocket's has more flavors launching in April. About $6 for six pops. Available at Sprouts and Albertson's.