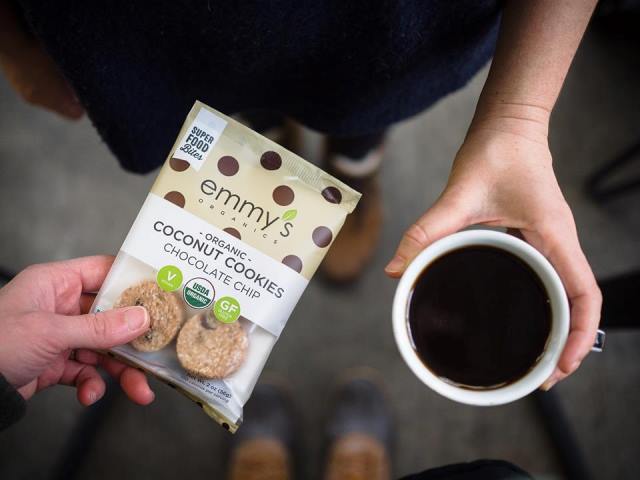 Between pumpkin pie and peppermint bark, hot cocoa and candy canes, December is chock-full of delicious and festive treats–that aren't exactly doing your health any favors. For those days between holiday family dinners and ugly Christmas sweater parties with friends, it's a good idea to be kind to your belly with healthful foods. A perfect treat to grab on the go, for stashing in your office snack drawer or for tucking in your kiddo's lunch box, Emmy's Organics Coconut Cookies is a wonderful snacking option this–or any–season.
Emmy's Organics Coconut Cookies contain zero artificial ingredients and are certified USDA organic, gluten-free, vegan and non-GMO, ensuring that you are feeding yourself and your family something you can feel good about. Even the facility the cookies are produced in is something you'll want to support: Emmy's makes its cookies in a solar- and wind-powered facility that produces minimal waste. Plus, the brand uses recycled packaging and regularly gives back to local Ithaca organizations.
The soft, sweet cookies are available in a variety of flavors, including Chocolate Chip, Peanut Butter, Lemon Ginger, Raspberry, Vanilla Bean  and Dark Cacao. For an indulgent rich dessert, the Peanut Butter and Dark Cacao options are divine, while the Raspberry (our personal favorite!) and Lemon Ginger are tangy and fruity. And kids will adore Chocolate Chip and Vanilla Bean. The cookies are delicious crumbled over a smoothie bowl, too.
Two sizes are available (three-cookie bags and nine-cookie bags). $2.99 for 2-oz. single-serve packs and $5.99-6.99 for 6-oz. resealable pouches. Emmy's Organics are found in stores nationwide; to purchase online, visit EmmysOrganics.com.