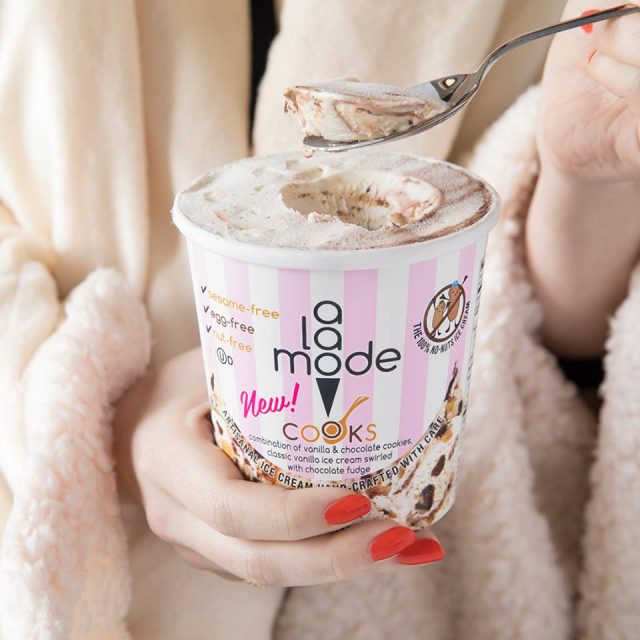 A La Mode has made a sweet splash in New York City over the past few years, thanks to its nut-, sesame- and egg-free goods (gluten- and dairy-free items are available, too). Now, the ice cream shop's delicious products can be ordered online and mailed to your front door.
We had the chance to taste some of A La Mode's incredible products, which range from pints and kid-size cups to decadent bars. Here are a few of our favorites:
Speed Bump pops: This flavor reminded us of rocky road–without the "rocks," or nuts. The deep chocolate ice cream is sprinkled with marshmallows and white and dark chocolate chips, and then coated in a thick layer of crispy dark chocolate. The pop is decadent and creamy, but served in a just-right portion so you're not overindulging. (We also adored the no-frills but super-delish vanilla pops.)
Partly Cloudy cups: This blue cotton candy ice cream was a winner with the kiddos. Though we were hesitant to stick a spoon in this flavor (blue ice cream=super sweet), we were pleasantly surprised that the ice cream wasn't overly saccharine. The cotton candy taste was definitely apparent and is complemented by dose of mini marshmallows. The cups are the perfect kid-friendly serving too, each coming with a wooden spoon so there is no clean-up needed (except for those happy blue-stained grins).
Cooks pint: A pint of Cooks ice cream just begs for an at-home movie night. Cooks ice cream features classic vanilla with a rich fudge swirl and bits of vanilla and chocolate cookies that add a little crunch. Each bite is utter velvet–A La Mode ice creams are made with 16 percent butterfat, after all. Ice cream traditionalists are sure to love this option–no fancy flavors or colors. Just top-notch vanilla and chocolate flavors done really, really well.
All A La Mode flavors are available on cup, pint or pop options. Click here to shop A La Mode products and flavors.