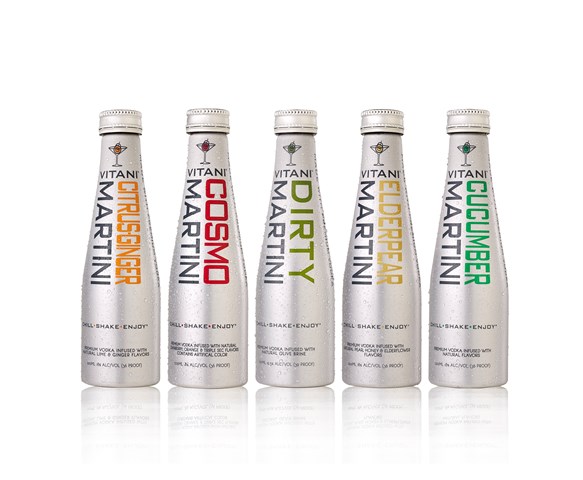 We want convenience, whether we're talking fast food, online shopping or even dating via apps. And the culture of convenience is now a major aspect when it comes to crafting cocktails at home.
In 2015, Eric and Jackie Gichner founded VITANI. "The Chicago couple wanted to produce a cocktail that not only has top-shelf bar-quality spirts, but also the alcohol content of a drink prepared by a professional bartender," per the press release. And lucky for us, Phoenix is the first city outside Chicago to offer the product. "We are thrilled to be able to bring VITANI to Arizona. We know what a vibrant destination this city is and believe our cocktails will match the enthusiasm and passion of cocktail-lovers here," says Eric.
So what makes VITANI so convenient? Well, you simply shake it and serve. No mix-ins, no additional alcohol, no fancy equipment needed. The product comes in two sizes–one for sharing and one for single servings (great for the pool come summertime). VITANI also offers customers variety, thanks to five delicious flavors: Cosmo Martini (premium vodka infused with natural cranberry, orange and triple sec); Dirty Martini (premium vodka infused with real olive brine); Citrus Ginger Martini (premium vodka infused with natural ginger, lemon and lime); Cucumber Martini (premium vodka infused with natural cucumber); and Elderpear Martini (premium vodka infused with natural pear, honey and elderflower). While the Dirty Martini will please those who are fans of the classic cocktail (the olive brine taste is very prominent), personal favorites included the Cucumber Martini, which was utterly refreshing and crisp, and the Citrus Ginger Martini, which tasted like a fancified, fizzy ginger ale.
Select flavors of VITANI are now for sale in select Scottsdale, Phoenix and Chandler AJ's Fine Foods markets