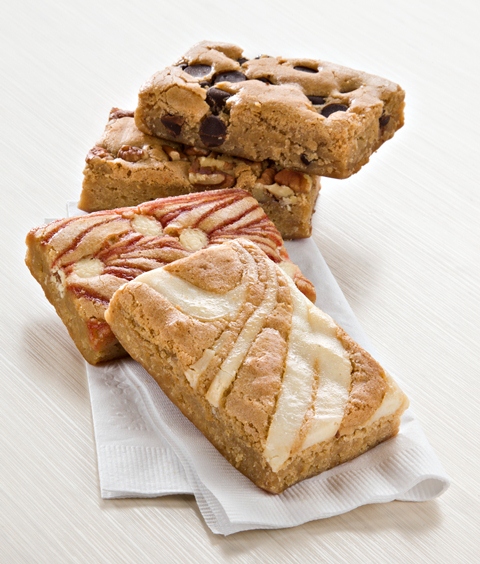 Since 1992, Fairytale Brownies has been making the Valley a sweeter place to live with its divine assortment of brownies. This September, the Valley company will unveil 2-inch by 3-inch brown sugar-based bars will be baked in four flavors: Cheesecake Swirl, Chocolate Chip Blondie, Pecan Blondie and Raspberry White Chocolate.
"The new bars are the perfect complement to our gourmet brownie assortment," says Eileen Spitalny, co-founder of Fairytale Brownies. "Premium ingredients make our bars just as enticing as our brownies and cookies."
Each of the new dessert bars begin with fine cake flour, organic vanilla extract, pure creamery butter and dark brown sugar, and are then decked in an assortment of tasty toppings:a  swirl of sweetened cream cheese, a large scattering of semi-sweet Callebaut Belgian chocolate chips, handfuls of chopped pecans, and a swirl of raspberry pureé with white chocolate chips.
All four flavors will be included in many of Fairytale Brownies' combination gifts, as well as in a variety of gifts by themselves. (Perfect for the not-so-far-away holiday season.) www.brownies.com.