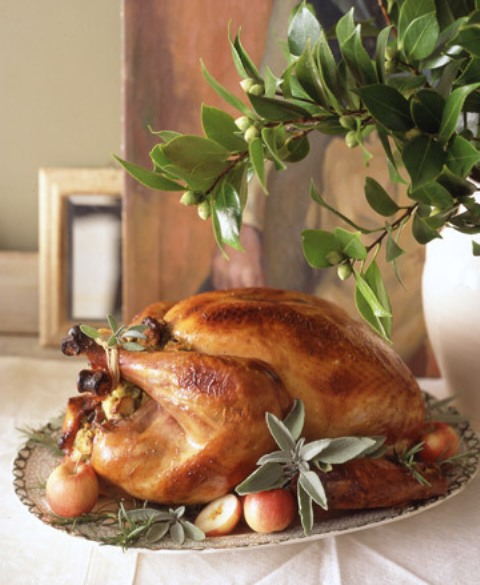 Thanksgiving is a mere week away! My taste buds are already dreaming of sweet potatoes and pumpkin pies. In case you're planning on heading out of the house this Turkey Day, here are a few Valley restaurants that are dishing up traditional, and not-so-traditional, feasts. (You can find more options here.) And be sure to make reservations for your holiday outing, as they are required.
The Boulders Resort
The Carefree resort is offering not one, but two tempting Thanksgiving spreads. From 2 to 8 p.m., Latilla Restaurant will host a four-course meal that includes menu items like roasted free-range turkey with cornbread-chestnut gravy and a fall-friendly pear-and-almond cake. This four-course meal is $78 per person, not including tax or gratuity. The Boulder's Palo Verde Restaurant will spotlight a special Turkey Day feast from 5 to 9 p.m. and the menu will feature roasted pumpkin bisque, whiskey bread pudding and more. This meal will cost $60 plus tax and gratuity. 480.488.9009.
The Ritz-Carlton, Phoenix
Bistro 24's Turkey Day feast will feature a four-course, plated, family-style Thanksgiving experience. Each guest will be able to select his or her main dish, while a bounty of holiday side dishes will also be brought to the table to be enjoyed family-style. (You'll feast on pumpkin truffle bisque en croute, farmer's organic cranberry salad, French beans, your choice of turkey, prime rib or fish, stuffing, yams, a trio of pies and more.) Priced at $59 per adult and $29 per child 12 and under, the holiday feast will be offered in bistro 24 on Thanksgiving, Nov. 26, from 11 a.m. to 6 p.m. 602.468.0700.
Lon's
Lon's at The Hermosa is dishing up a three-course Thanksgiving menu. A choice of an appetizer, soup or salad, entree and festive holiday dessert will be offered. Selections include roasted kabocha squash soup, pan-roasted Arizona shrimp with green chili risotto, roasted turkey with fennel sausage and corn bread dressing, maple-glazed sweet potatoes, garlic mashed potatoes and cranberry relish; wood-grilled beef tenderloin and gulf prawns with goat cheese and herb polenta; and jalapeno honey-glazed natural pork tenderloin with butternut squash and port wine sauce. The dessert lineup feature pumpkin-cranberry pie, pecan pie with house-made espresso ice cream, and double chocolate decadence with chantilly cream. Additionally, Lon's has an extensive wine selection to complement your holiday meal. The meal is available from noon to 7 p.m. on Thanksgiving Day and is priced at $65 per person and $15 for children (tax and gratuity not included). 602.955.7878.
Westin Kierland
Westin Kierland's Nellie Cashman's will feature a filling Thanksgiving buffet including roasted Tom Turkey with sage gravy, chestnut stuffing, candied yams and pumpkin pie, just to name a few. The spread is available from noon to 9 p.m. (last seating at 8 p.m.) on Thanksgiving day. For adults, the buffet is $45; for children it's $15. Children 5 and under eat free. 480.624.1202.
Fairmont Scottsdale
Bourbon Steak, LV Bistro and The Grill are all offering special Thanksgiving feasts. Bourbon Steak will dish up a three-course spread for $47 while LV Bistro ($52 for adults, $27 for kids, tax and gratuity not included) and The Grill ($62 for adults, $30 for kids) will host delicious holiday brunch buffets. The Grill's buffet will even include a raw bar and seafood station if turkey doesn't tempt your taste buds. 480.585.4848.
Image from marthastewart.com