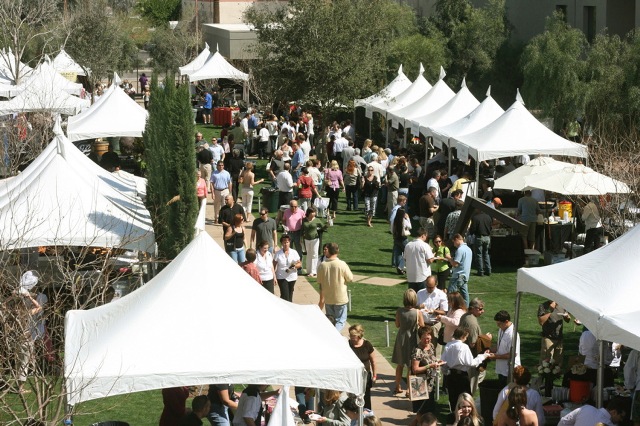 Spring is just around the corner and Valley food lovers know what that means: culinary festival season is upon us. Kicking things off is the West of Western Culinary Festival, an annual culinary event bringing together Arizona's most renowned chefs for a weekend of fine food, education and entertainment. Held at Phoenix Art Museum March 14 and 15, from 11 a.m. to 4 p.m., this multi-sensory affair offers an impressive array of fine wines, signature dishes, stunning works of art (of course), live musical performances and chef-lead cooking demonstrations. Food-filled festivities can be found indoors and outside of the museum in the Dorrance Sculpture Garden.
"This year's line-up of chefs and programs will not disappoint," commented Scott Andrews, Director of West of Western Culinary Festival. "Several talented and highly-regarded chefs have joined the festival including Joshua Herbert of Posh, Brian Peterson of Cork, John Sharpe of The Turquoise Room and Patrick Peeters, formerly with the much acclaimed Barry Callebaut Chocolate Academy and now owner of Peeters Belgian Pastries & Chocolates."
Participating restaurants and chefs:
Arcadia Farms, Carolyn Ellis
Atlas Bistro, Brandon Crouser and Joshua Reisner
BLT Steak, Camelback Inn, Marc Hennessy
The Breadfruit, Dwayne Allen
The Clarendon Hotel
Cork, Brian Peterson
Digestif, Peyton Curry
District, Sheraton Phoenix Downtown Hotel, Nathan Crouser
Ganache This!, Judy Palmer
ICON, Wyndham Phoenix, Steven Zimmerman
Il Terrazzo, The Phoenician, Victor Casanova
Kai, Sheraton Wild Horse Pass, Michael O'Dowd
Lisa G Café and Wine Bar, Lisa Giungo
LV Bistro, The Fairmont Scottsdale, Forest Hamrick
Meritage, JW Marriott Desert Ridge
Mosaic Restaurant, Deborah Knight
Mucho Gusto Mexican Bistro, Chad Withycombe
Olive & Ivy Restaurant and Marketplace, Clint Woods
Peeters Belgian Pastries & Chocolates, Patrick Peeters
The Phoenician, Paul Carter
Pinata's Mexican Restaurant, Carlos Marquez
Pointe Hilton Tapatio Cliffs Resort, Anthony DeMuro
Posh, Joshua Herbert
Prado, The Intercontinental Montelucia Resort and Spa, Claudio Uriciuoli
Quiessence Restaurant, Greg LePrad
Simply Bread, Jeffrey Yankellow
Sol y Sombra Spanish Kitchen & Lounge, Aaron May
Taggia, Firesky Resort, James Siao
Talavera, The Four Seasons Resort Scottsdale, Mel Mecinas
Tapino Kitchen and Wine Bar, James Porter
Trente-Cinq 35, Lionel Geuskens
True Food Kitchen, Michael Stebner
The Turquoise Room, John Sharpe
Ristorante Tuscany, JW Marriott Desert Ridge Resort, Brian Archibold
The Wild Thaiger, Olashawn Hasadinrtana
Tickets:
Advance tickets can be purchased online at www.westofwestern.com.
$75, adult, one day pass including food and wine
$67, adult, one day pass, food only
$22, youth, children ages 9 through 15, one day pass
Children under 9 admitted free with adult
Tickets purchased at the gate are $85 for the one day food and wine pass. $77 for the dining only pass.