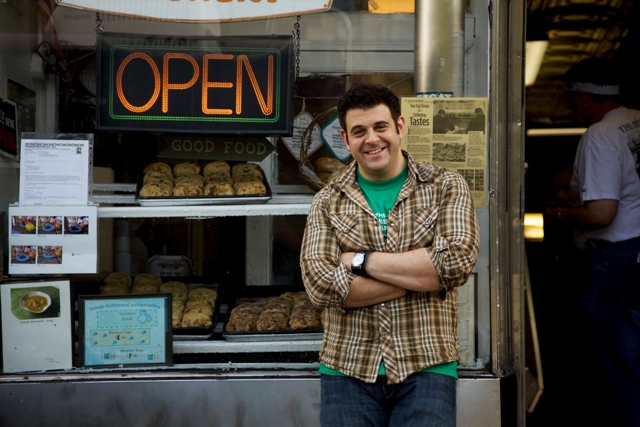 I know, I know: it's Halloween and I'm already thinking about next year's Scottsdale Culinary Festival. But apart from all the usual fun and food, the 34th Annual Scottsdale Culinary Festival, scheduled to take place April 17-22, has recently announced some highly anticipated and very exciting new additions to the 2012 culinary event lineup that I just have to share.
Travel Channels Stars at Great Arizona Picnic. The lovable Adam Richman of "Man v. Food" (pictured) and Andrew Zimmern of "Bizarre Foods" will be performing live all weekend long at the Great Arizona Picnic.
The Burger Battle. The burger-building throw-down event will rally the best burger joints across the Valley, as guests sample and vote for the best between the buns. One stacked creation will claim the coveted title of "Best Burger." Along with the title, the battle's champion will take away a trophy and bragging rights.
Epicurean Expo. Upon entering the Great Arizona Picnic, guests can catch a glimpse of ground-breaking innovations in the culinary world at the new Epicurean Expo. Vendors will demonstrate state-of-the-art blenders, knives, juicers, slow-cook warming drawers and more.
 More events from the 34th Annual Scottsdale Culinary Festival will be announced closer to the event date. Procceds from the culinary festival events will benefit The Scottsdale League for the Arts, a nonprofit (501(c)3 charitable organization that raises funds for art and art education programs throughout Arizona. For more info on next year's most anticipated culinary event, visit http://www.scottsdaleculinaryfestival.org/. Now get back to your pumpkin-carving and cider-sipping…