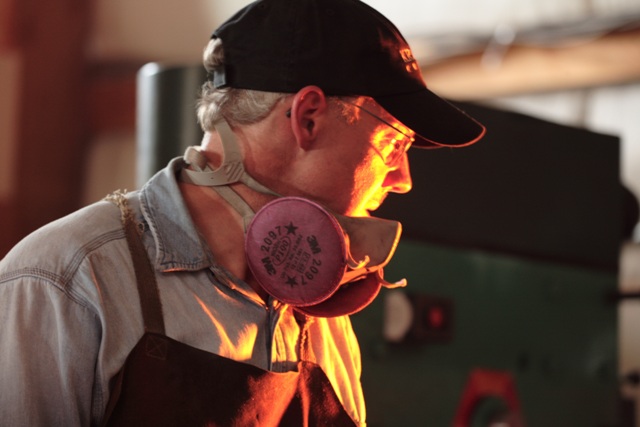 Knife skills are something that I do not possess. I recall taking a sushi-making class a few years ago: I was a pro at the rolling technique, excelled at working with the sticky white rice and eyeballing the perfect amount of ingredients. However, when it came to cutting the delicate sushi roll in to bite-size pieces, I pretty much butchered the perfect sushi roll that I had crafted. Obviously, knives and I have never really got along.
Thankfully, Sur La Table is offering the rare chance for Valley dwellers to learn the experiences, techniques and passion for cutlery that Bob Kramer possesses. You see, Kramer is the only former chef, and the only one specializing in kitchen cutlery, to have been certified by the American Bladesmith Society. And you won't want to miss this opportunity to hear Kramer's's fascinating stories from his years working in the restaurant industry and designing some of the world's most exquisite knives during this weekend's Master Knife Skills class. The class is take place at Sur La Table at Scottsdale's Kierland Commons on Nov. 14 at 12 p.m. The class is $100 per student.
About Bob Kramer
Well-respected in the culinary world, Kramer has been featured in various articles including The New Yorker, Saveur and Bon Appétit. Cook's Illustrated once wrote "The Kramer knife outperformed every knife we've ever rated." Put simply—Mr. Kramer is king of the kitchen knife. In fall 2008, Sur La Table launched a line of artisan knives created by Shun and Bob Kramer—the first time in history a Master Bladesmith partnered with a major cutlery company.
Class Information
What better way to learn knife skills than from the master himself? See Bob Kramer in action as he teaches SurLa Table's exclusiveMaster Knife Skills class. Bob will give his students an in-depth seminar on knives and bladesmithing by teaching you how to sharpen your blades and showing you professional tricks and techniques of using knives. Plus, he'll share his personal story and outlook on cutlery. Food and wine will be served at this once-in-a-lifetime event. To say thanks for attending the class, SurLa Table will also giveguests a 15 percent off coupon to use in the store, even on the exclusive Shun Bob Kramer knives. You'll also receive a copy of Knives Cooks Love (named one of "The Best Cookbooks of 2008" by Sara Moulton, Good Morning America). Class registration is located on the Cooking Class section on http://www.surlatable.com/.
Photo Credit: Bryan Habeck