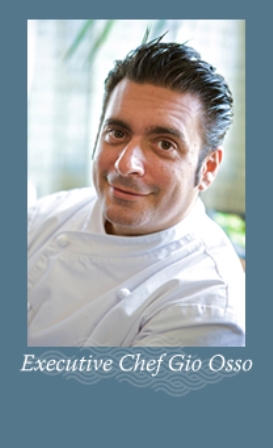 Sunday dinners are a major tradition for many families. A time to relax, share the details of your week and indulge in a delicious mom-cooked meal. However, Estate House at Scottsdale's SouthBridge is offering an easy and affordable to enjoy the Sunday family dinner tradition–but without having to wash any dishes or even turn the oven on. Starting last Sunday, January 3, Estate House's Chef Gio Osso started serving up his Italian Grandma's prized recipes every Sunday with his Simple Sunday dinners.
Estate House's special Italian menus features crowd favorites such as Mozzarella in Carrozza; Cozze fra diavolo (Prince Edward Island mussels in a spicy tomato sauce); Linguine alle vongole (Linguine with baby clams, pancetta, chiles, in a white wine sauce); Pasta al forno (Baked spinach pasta, Bolognese, béchamel and prosciutto cotto); Branzino al Marechiaro (Mediterranean sea bass with a lightly spiced tomato sauce); Pollo ai carciofi (Roasted chicken with artichoke, garlic and lemon) and of course, the classic Tiramisu (house made lady fingers dipped in espresso and mascarpone crema) and Biscotti al cioccolato (Twice cooked pistachio cookies dipped in chocolate). (Yum! The desserts sounds particularly tempting and a great way to start off to the week.)
The cost of the Simple Sunday menus will be $29 per person and includes appetizer, entree and dessert. The menus will change weekly. The regular Estate House menu, featuring creative American Contemporary dishes, will also be offered, in addition to the new Simple Sunday spread. 7134 E. Stetson Dr., Ste. 200, Scottsdale, 480.970.4099, www.estatehouseaz.com.
Here's a bit about Chef Osso and his grandma:
Italian favorites have been part of Chef Osso's culinary "schooling" since he was a boy. Osso spent his childhood in Paola, Calabria Italy; a beach town where he fished crystal clear waters for fresh seafood, foraged wild porcini mushrooms and hunted for small game birds and wild boar. Osso's Nona (Grandma) helped him master Italian specialties, with the perfect dash of garlic and splash of olive oil. They are just the right dishes for family dining even today, appealing to finicky kids and hungry dads alike. Enhancing the tradition of family Sunday dinner is Estate House's inviting setting and relaxed yet sumptuous décor. Digging into a heaping plate of lasagna at Estate House feels like dinner at a luxuriously comfy Italian countryside estate. Rather than views of vineyards, guests enjoy views of the sparkling downtown Scottsdale canal front. Terraces invite al fresco dining where outdoor fireplaces caste a warm glow.