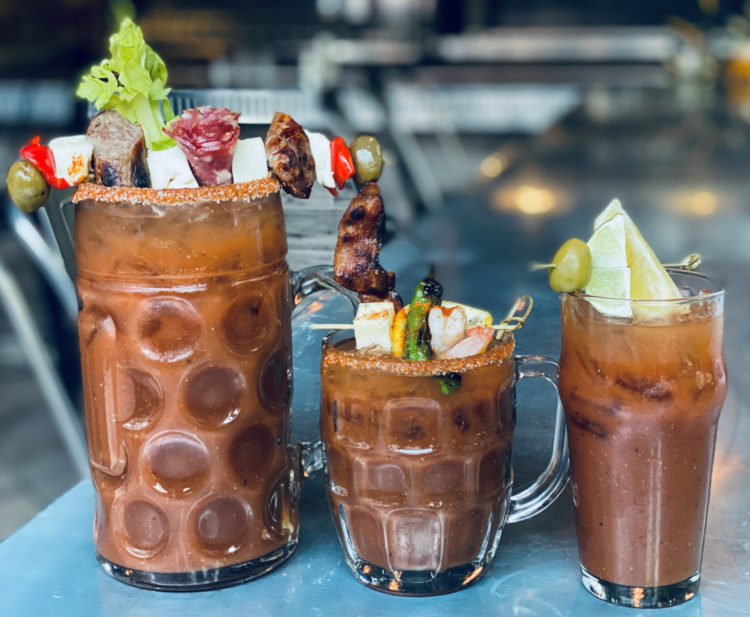 Angry Crab Shack
Angry Crab Shack's Cajun Bloody Mary ($10) will give your tastebuds a kick of life with its spice take your tastebuds. The New Orleans inspired cocktail is made with house-infused spicy vodka, organic bloody mary mix, topped with a float of stout beer and garnished jalapeño lemon lime-marinated asparagus and olives and a crab leg.
The seafood restaurant focuses on providing fresh, top quality taste at an affordable price point, sourcing lobster from the East Coast, Dungeness Crab from the Pacific Northwest, King and Snow Crab from Alaska, and crawfish from the Gulf of Mexico.
Angry Crab Shack has 11 stores in Arizona with the newest location in San Tan Valley. For more information and to find the nearest location, please visit angrycrabshack.com.
Grimaldi's Pizzeria
Grimaldi's Bloody Mary ($10) is the miracle hangover cure that'll hit all the right notes on New Year's Day. The pizzeria uses their top-secret, famous pizza sauce that adds another layer of spice and zest to this 'Mary, along with basil-infused vodka and garnished with a melody of your favorite pizza toppings.
With more than 100 years of coal-fired brick-oven pizza-making traditions, Grimaldi's is a must if you want to enjoy a tasty pizza made from the freshest ingredients.
Grimaldi's is the most award-winning pizzeria in the United States with 6 locations in the metro Phoenix area. For more information on Grimaldi's, visit grimaldispizzeria.com.
Pedal Haus Brewery
Pedal Haus has three different Bloody Marys available for brunch cocktail enthusiasts including the large Big Ass version topped with salami, cheese, celery, olives, and more ($18), the smaller Haus version topped with charred veggies, bacon, and cheese ($11) as well as the Simple garnished with lemon and olives for $8.
All versions are available on the weekends with a $3 discount on Sundays and on January 1 in honor of National Bloody Mary Day.
Pedal Haus Brewery has locations in Tempe and Chandler. For more information about Pedal Haus Brewery follow on Facebook and Instagram, or visit Pedalhausbrewery.com.
Twin Peaks
Twin Peaks' Bloody Mary packs a punch with Tito's handmade vodka layered with ZingZang tomato mix, fresh lime, celery, olive, a seasoned salt rim, and crispy bacon ($9).
Other bloody marys made with well vodka art $5 all day, every day. Twin Peaks, the ultimate sports lodge is famous for the 29-degree beer, scratch-made food, and 100s of TVs.
There are three Valley locations located at 2135 E Camelback Rd. in Phoenix, 8787 E. Frank Lloyd Wright Blvd. in Scottsdale, and 6922 N. 95th Ave. in Glendale across from the stadium. For more information visit www.twinpeaksrestaurant.com
U.S. Egg
U.S. Egg recently expanded its cocktail offerings with four bloody mary options – the Bacon & Egg topped with a full hard-boiled egg ($10.95), Traditional ($7.95), Eye-Opener with jalapeños and Cholula sauce ($7.95) and Tailgate with bacon ($9.95).
Bloody mary enthusiasts can also opt for the Bloody Mary flight, which features a to-ounce serving of each flavor for $24.95.
U.S. Egg has six Valley locations. For more information on U.S. Egg and to stay up-to-date on the latest happenings, visit www.useggrestaurant.com or follow on Facebook.
Humble Pie
Its "Not So" Humble Bloody Mary is a traditional base zhooshed up with a cabernet float, caprese spear of basil, tomato, fresh mozzarella, grande pepperoni and a seasoned rim for $5.
Humble Pie uses fresh, locally grown ingredients with its "Not So" Humble twist on traditional dishes and cocktails. The eatery is open for dine-in and take out and offers daily specials, happy hour, lunch deals, and brunch with indoor-outdoor seating.
Humble Pie has two locations in Scottsdale and Glendale. For more information, visit humblepieusa.com and follow on Instagram to stay up to date with specials and new items.