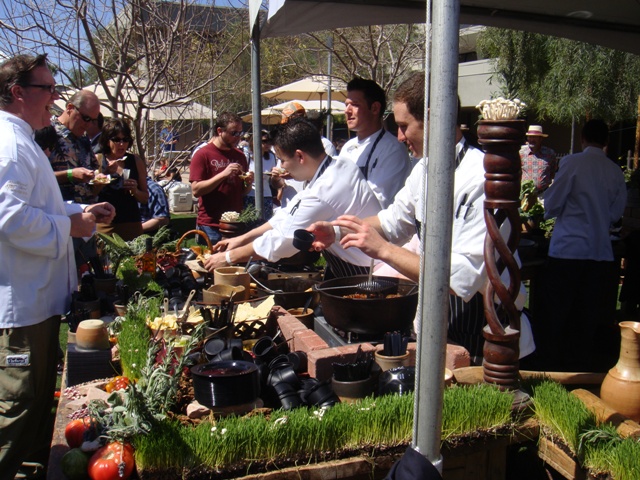 On Sunday afternoon, my husband and I headed out to the West of Western Culinary Festival at Phoenix Art Museum. (We unfortunately had to miss Saturday's festivities.) We soaked up some sun thanks to the glorious weather, and sampled food and drink from many of the Valley's most impressive eateries. The Dorrance Sculpture Garden was center stage for the chefs to set up shop, with white tents lining the lovely space. Our first stop was Kai of Sheraton Wild Horse Pass (they put on quite a fun show, in addition to providing some of the festival's top food). The first thing I tasted at West of Western ended up being my favorite: Kai's decadent pulled lamb, with tzatziki sauce, on top of slighty sweet Indian fry bread. I wanted a second sample, but I knew there was too much fine fare still to try…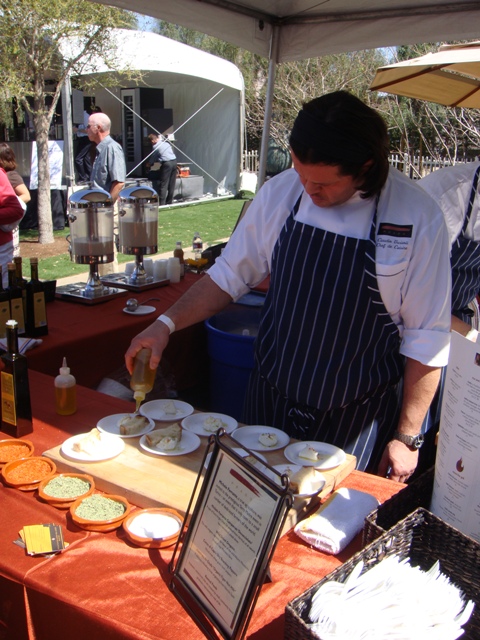 I also very much enjoyed the halibut tacos at Crescent Moon of Four Seasons Scottsdale Troon North, as well as Simply Bread's delish, crispy sandwich–made with sopressata and pesto–on Jeffrey Yankellow's superb bread. Chef Claudio Urciuoli, of Prado at Montelucia Resort & Spa, also impressed with buricotta, an mouth-watering marriage of burrata and ricotta, a match made in cheese heaven. The divine dish was sided with some olive oil-soaked bread. I also wanted seconds of this. Some other standouts include Quiessence's ambitious number of courses–try 15!–and The Phoenician's eye-popping bread display (which was delicious as well).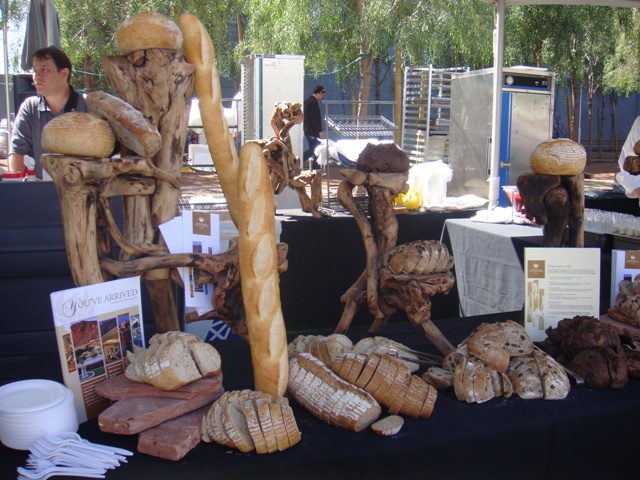 As for desserts, Crescent Moon's sour cream mousse with a raspberry coulis and a crumbly chocolate biscotti was tops. The Breadfruit's, a Jamaican eatery in Phoenix, ginger-sweet potato pie and District's red velvet whoopie pie also deserved a thumbs up. And James Porter of Tapino Kitchen & Wine Bar offered up an absolute must-try: a root beer float that featured foie gras ice cream. Though I was a little intimidated to give it a ago, I actually enjoyed this dish. The foie gras ice cream was incredibly smooth and rich–almost buttery.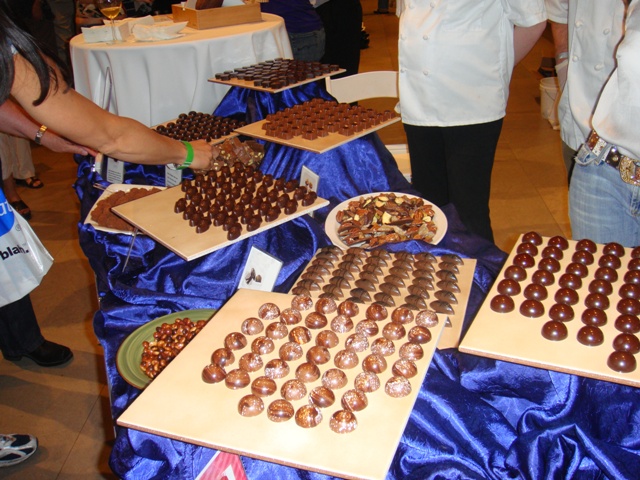 Wine tastings were held inside the museum, and some of my faves were from Arizona wineries Dos Cabezas and Arizona Stronghold Vineyards, as well as beer from Oregon's Deschutes Brewery. However, my most favorite part of the wine tasting area might just be the chocolaty treats provided by Patrick Peeters of Peeters Belgian Pastries & Chocolates. His pistachio-laden fudge nearly stopped my chocolate-loving heart–it was that good. Now, the countdown starts to the 2010 West of Western Culinary Festival…