I love pumpkin. And not just to decorate my doorstep with, alongside fall leaves and scarecrows–although I love doing that too! During the fall months, I gulp down out-of-this-world pumpkin spice lattes at Starbucks at least once a week and make batch after batch of Martha Stewart's amazing pumpkin whoopie pies and pumpkin cookies. Last night, I cooked a pumpkin-zucchini lasagna for dinner, and I'm looking forward to whipping up a batch of homemade pumpkin cupcakes with cream cheese frosting later this week. I even braved the crazy heat this weekend and made my way to pick out lovely pumpkins at Schnepf's Farm. Is that enough proof that I adore pumpkins? Therefore, when I found out about these amazing pumpkin delights, I couldn't wait to share them with you all.


Spiced Pumpkin Seed Brittle This crispy fall-inspired brittle is made with apple cider (another favorite of mine during the autumn season), select pumpkin spices and roasted pumpkin seeds. Plus, it gets bonus points for being crunchy, which many pumpkin treats aren't. It's only available through November. About $13 per pound. http://www.swissmaidfudge.com/store/product.php?productid=16528&cat=253&page=1.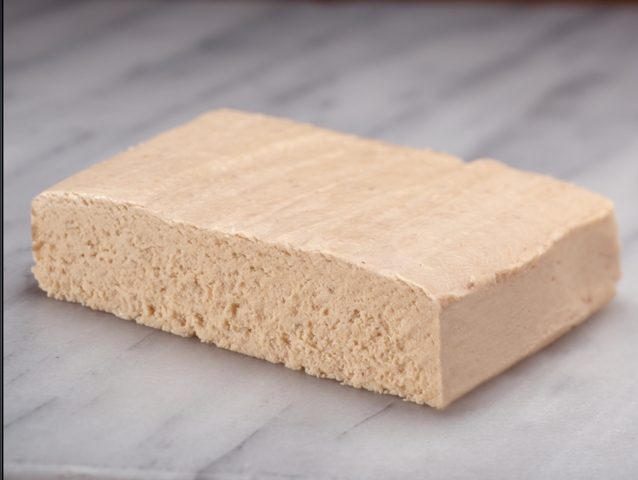 Creamy Pumpkin Fudge Wisconsin's Swiss Maid Fudge uses real pumpkin in this yummy alternative to pumpkin pie and mixes it until it reaches a creamy, smooth consistency. The fudge is also available through November. About $14 per pound.  http://www.swissmaidfudge.com/store/product.php?productid=16402&cat=253&page=1.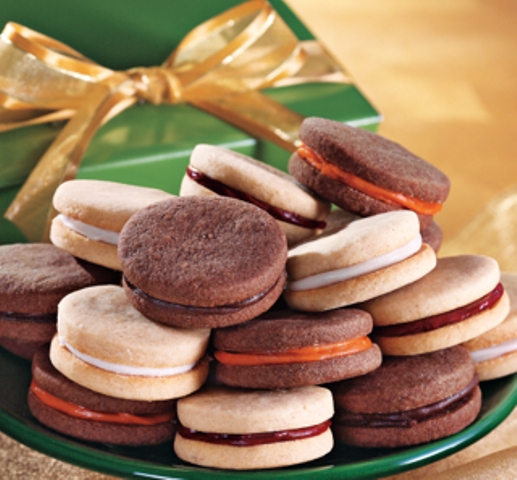 Spiced Creme Shortbreads Don't you think your favorite host or hostess will just flip when presented with a box of homestyle pumpkin creme shortbread cookies? The butter and chocolate cookies are sandwiched with fluffy icing. About $30 per dozen cookies. www.harryanddavid.com.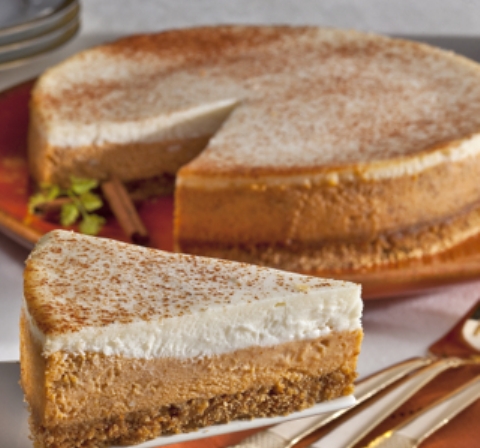 Pumpkin Pie Cheesecake Though I'm a huge fan of traditional pumpkin pie, topped with whipped cream, I'm always open to try new varieties (and I'm sure your dinner guests will be too). This sweet-savory option is layered with Harry's Original Cheesecake that's made with plenty of sweet cream cheese. About $30 for an eight-person serving. www.harryanddavid.com.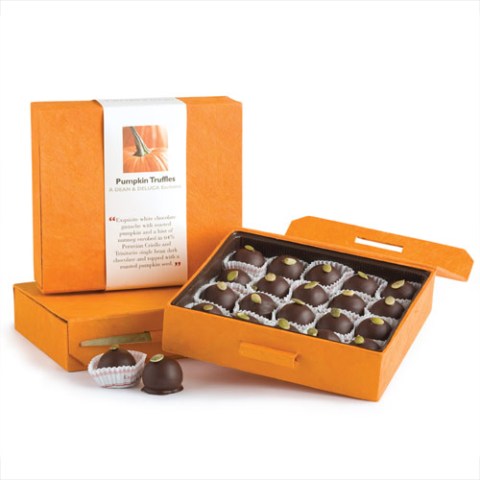 Pumpkin Truffles Isn't that one of the most delectable phrases you've ever read? These amazing goodies feature white chocolate pumpkin ganache with a hint of nutmeg, enrobed in rich, dark chocolate and topped with a toasted pumpkin seed. $36 for 20 pieces. http://www.deandeluca.com/chocolates-and-confections/chocolates-confections/pumpkin-truffles.aspx.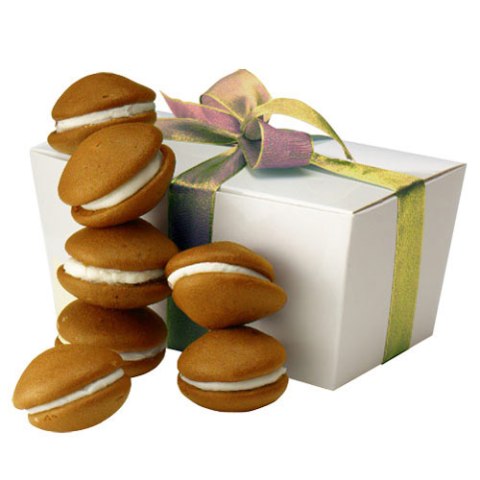 Whoopie Pies As I mentioned earlier, I like to make my own pumpkin whoopie pies in the fall. However, I'd love to sink my teeth into these soft, cream cheese icing-filled treats anytime. Don't you think a box of these in the break room will make for very happy co-workers? $50 for 12 whoopie pies. http://www.deandeluca.com/gifts/office-gifts/whoopie-pies.aspx.