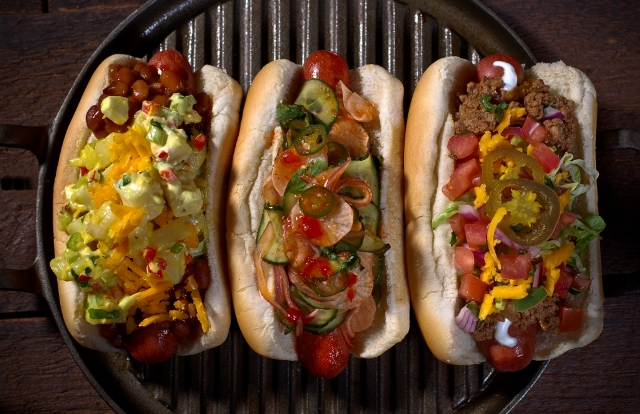 Buy me some peanuts and Cracker Jax…and a taco dog, a turkey pastrami sandwich and gluten-free nachos. Today is the home opener at Phoenix's Chase Field (the Diamondbacks will be hosting the Cincinnati Reds) and to celebrate the big game Levy Restaurants, the official restaurant partner at Chase Field, and Executive Chef Michael Snoke have added many new menu items to fill the bellies of hungry sports fans.
Extreme Loaded Dogs
Extreme Loaded Dogs (featuring all-beef dogs) will be available on the Club Level and the new creations include:
Tailgate on a Plate: Topped with baked beans, potato salad, Levy BBQ sauce, shredded cheddar
Big Kid Dog: Topped with homemade mac and cheese, Fritos
The Heater: Topped with Buffalo hot wing sauce, blue cheese slaw, celery salt
Nacho-Yo Dog: Topped with grated cheddar cheese, sour cream, pico de gallo, jalapeno
Taco Dog: Seasoned ground beef, shaved lettuce, pico de gallo, shredded cheddar, sour cream, pickled jalapeno
Homestand special: An additional creation will rotate each homestand including options like the Deli Dog topped with Thousand Island dressing, sauerkraut; the Burger Dog, an Oscar Meyer ground beef and cheese dog, topped with a pickle spear, mustard, ketchup; the Kim Chi Dog topped with the traditional Korean condiment; and Frito Pie Dog topped with chili, shredded cheddar, Fritos
New Concession and In-Seat Offerings
Chef Snoke has added a range of new concessions throughout the stadium, including:
The Big Cheese Rip and Dip: The Rip and Dip is a giant serving of garlic cheese bread meant to rip and dip in two specialty sauces. Served in an 18-inch pizza box, the Focaccia bread is crispy on the bottom and soft on top, layered with gooey, melted cheese and herbs. Available at the Big Dawgs stand in Section 130 and the Club Level Mini Restaurants Section 208, it's served with marinara and ranch, and meant to share.
Niman Ranch: Levy Restaurants is the exclusive purveyor of Niman Ranch in sports and entertainment venues, and their all natural sausages will now be served at the Red Hot stand in Section 126. The apple gouda, chipotle cheddar and spicy Italian sausages are available, served with gourmet toppings such as southwestern relish, onions, peppers and apple slaw.
California Cheesesteak Dog: Half-pound, char-grilled hot dog topped with sautéed beef, mushrooms, peppers, onions and cheese sauce inspired by the D-Backs rivalry with the LA Dodgers, available at the Big Dawgs location on the main concourse.
Spicy Chicken Tacos: Chile-braised chicken served on whole wheat tortillas with shredded lettuce, salsa cruda and cilantro yogurt, available in in-seat service.
Turkey pastrami: Sliced, peppered turkey pastrami on rye bread with Swiss cheese, sauerkraut and Louie dressing, available in in-seat service.
Buffalo Chicken Sandwich: A grilled breast of chicken smothered in Levy Restaurants' signature wing sauce, topped with Jack cheese and blue cheese-apple slaw on a whole wheat bun, available in in-seat service.
Gluten-Free Menu
New this season, Levy Restaurants will now offer a portable cart in Section 107 dedicated to freshly prepared, gluten-free sports favorites. The fan favorites and expanded snack offerings include:
Hot Dog: Certified gluten-free hot dog, Kinnikinnick bun, Heinz ketchup and French's mustard
Chili Cheese Dog: Certified gluten-free hot dog, Kinnikinnick bun, Ghel's chili sauce, cheese
Nachos: Mission tortilla chips, Ghel's cheese, Embasa jalapeños
Loaded Nachos: Mission tortilla chips, Ghel's chili sauce and cheese, LaVictoria Alamo salsa, Embasa jalapeños
Red Bridge Beer: Gluten-free beer made without wheat or barley
Snacks and Sweets: Taste Good Tortilla Chips, Gluten-Free Carmel & Cheddar Popcorn Mix, Eden Organic Pumpkin Seeds, Eden Organic Berry Mix, Larabars, NuGO Free Dark Chocolate Bar, Skittles, gluten-free gummy bears
New Healthy Items
At Chase Field, the new healthy menu items will be offered at Red Hot locations and select Doubleheader stands on the main concourse. Options include:
Chopped Veggie Salad: A mix of Romaine lettuce, spinach, broccoli florets, red onion, cucumber, asparagus, Kalamata olives, grape tomatoes, garbanzo beans and julienne carrots, served with a house-made red wine vinaigrette
Grilled Chicken Sandwich: A grilled chicken breast on a whole wheat bun with lettuce and tomato
Veg Out Cup with Hummus: Fresh vegetables including carrots, celery, jicama, cucumber and radishes, served with house made hummus
Fruta Cup: A mix of seasonal fruit, such as watermelon, mango, strawberries, honeydew, cantaloupe and pineapple, served with a lime wedge and chili lime salt
Healthy Snack Basket: New in the suites only, the healthy snack basket features fresh fruit and packaged snacks such as dried cherries, nuts and low fat chips