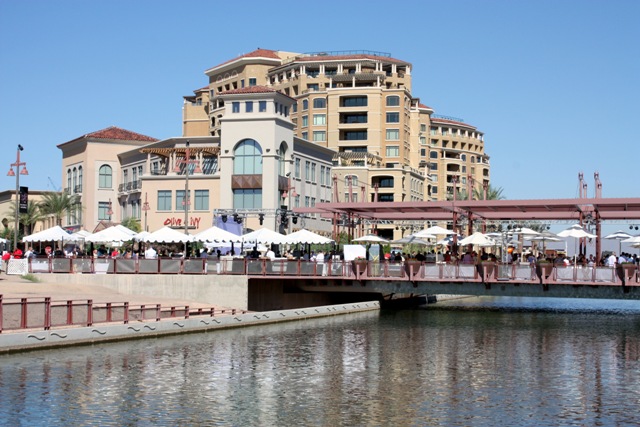 Weight gain is typically an issue around the holiday season. However, you might want to slate a few extra pounds for next week when Crave Arizona kicks off at the Scottsdale Waterfront bridge in downtown Scottsdale. Crave Arizona, which is sponsored by Savor Scottsdale and benefits Waste Not and Grow for Good, will feature 40 restaurants, 200 wineries, parties, classes and competitions over three delicious days and nights, October 22-24. Some of the events include BBQ & Bubbles, a competition BBQ cook-off with BRAVO Top Chefs and Scottsdale's own local talent, and Arizona's Grand Tasting, a full-day culinary extravaganza that features regional specialties and wine seminars. Event tickets range in price from $25 to $150, with one free event. Tickets and more details are available at www.cravearizona.com or by calling 480.945.0344.
Featured at this big-time Scottsdale food and wine event will be BRAVO's Top Chefs Stephanie Izard and Sam Talbot, along with Food & Wine Magazine's Best New Chefs Jon Shook and Vinny Dotolo of the hot restaurant Animal in Los Angeles. Renowned celebrity chefs Douglas Rodriguez and Michael Mina will also draw the foodie crowds, along with Master Mixologist Ryan Magarian and Master Sommelier Shayn Bjorholm. Each of the celebrity chefs will be paired with Scottsdale's own local chefs. Participating restaurants cooking up regional specialties include: Alto, Atlas Bistro, BLT Steakhouse, Café Zuzu, Cowboy Ciao, Devour Phoenix, Deseo, Digestif, Elements, Estate House, Green House, House of Tricks, Kazimierz Wine Bar, Mabel Murphy, Metro Brasserie, Mucho Gusto, Olive & Ivy, Petite Maison, Posh, Prado, Sassi, Sweet Republic, T. Cooks, Talavera, Trader Vics, True Food Kitchen, Wrigley Mansion, Alice Cooperstown, Ahnala Mesquite, and more.
The Crave Arizona lineup:
Thursday, October 22 9:00 pm
National Top Bar Chef Competition & Crave Arizona Kick-Off Party
Location: The Bridge at the Scottsdale Waterfront, Scottsdale
Ticket Price: $25 (Price includes 2 Skyy Cocktails)
Master bartenders from across the U.S. battle live onstage for the title of National Top Bar Chef. Sip a cocktail or wine as Crave Arizona transforms The Bridge at the Scottsdale Waterfront into an ultra-chic outdoor lounge complete with DJ Peabody spinning, signature cocktails, and sweet & savory bites from local renowned pastry chefs, including: Chef Tracy Dempsey, Chef Travis Watson from Avalon, and Julia Baker of Julia Baker Confections.
Thursday, October 22 7:00 p.m.
"Taste of Art" ArtWalk
Location: Scottsdale Downtown Galleries
Ticket Price: free
Browse Scottsdale's more than 100 boutique art galleries and taste samplings from the rising stars of the Arizona Culinary Institute and sips from Taste Washington, a showcase of Washington state's finest wines.
October 22 8:00 p.m.
"Taste of Art" Gallery Dinner
Location: Marshall-LeKAE Gallery
Ticket Price: $150
Marshall-LaKAE Gallery hosts an intimate and exclusive five-course dinner featuring James Beard award-winning winemaker, Fritz Maytag and nationally acclaimed chef, Douglas Rodriguez of deseo restaurant of the Westin Kierland Resort and Spa.
Friday, October 23 Noon
Savor Scottsdale Wine Luncheons
Location: Choose from three restaurants below
Ticket Price: $50
Atlas Bistro welcomes Miner Family vineyards to present an unforgettable three-course wine lunch with wine personality Jack Edwards.
Bourbon Steak welcomes Palmina Winery to present an amazing three-course wine lunch with winemaker Chrystal Clifton.
Cafe Forte pairs with top winery (TBD) to present a savory three-course wine lunch.
Friday, October 23 Noon – 5:00 pm
Library Wine Tasting Series
Location: Choose from below
Ticket Price: $50
Sip the rarest wines and private reserves from award-winning wineries during an elite series of tastings. Wine enthusiasts and collectors will enjoy this special opportunity to sample and purchase remarkable wines not usually available to the public. Seating will be extremely limited.
Marc De Grazia Vineyard Library Tasting hosted by Sariya Jarasviroj Brown
Location: Olive and Ivy, The Stamp Room at 3:00 – 4:00 pm
"It's In the Glass": A Guided Blind Tasting of Single Vineyard Barolo from Marc De Grazia. Selections hosted by Sariya Jarasviroj Brown
Justin Vineyard Library Tasting hosted by Rich Richardson
Location: Calvin Charles Gallery at 4:00-5:00 pm
"The Jewel of Paso": Experience a trip through the vintages of Justin Vineyards and Wineries greatest achievements with a view of their Bordeaux-style blend wines hosted by Rich Richardson.
York Creek Vineyards Library Tasting hosted By Fritz Maytag
Location: The Estate House at 4:00 – 5:00 pm
Friday, October 23 7:00 p.m.
BBQ and Bubbles
Location: The Bridge at the Scottsdale Waterfront, Scottsdale
Ticket Price: $100
National and local celebrity chefs grill side-by-side to celebrate Arizona's booming local farming movement. Guests will enjoy passed grilled bites, mixing & mingling with chef personalities, music and silent/live auctions. Beer, Wine and Bubbles will be provided. Participating chefs include BRAVO Top Chefs Stephanie Izard, Sam Talbot, Food and Wine Magazine's Best New Chefs, Jon Shook and Vinny Dotolo, as well as local favorites James Porter, Aaron May, Matt Carter, Josh Herbert, Lee Hillson, Peter DeRuvo and Marc Hennessey. Bubbles will include Roederer Estate, Roederer Estate Rose, Roederer L'Ermitage and Roederer Brut Premier.
Saturday, October 24 Noon
The Arizona Grand Tasting
Location: The Bridge at the Scottsdale Waterfront, Scottsdale
Ticket Price: $75 (includes event and seminars below)
Taste every corner of Arizona's unique cuisine as more than 40 independent restaurants, 200 wineries and dozens of celebrity chefs present their finest food, wine and talents. Experience thrilling cooking demonstrations, informative wine seminars and discover why the world Craves the Arizona flavor.
Seminar 1 at 3:00 pm: Which One's Washington?
Seminar Moderator: Shayn Bjornholm, Education Director for the Washington Wine Commission and Master Sommelier
Washington State is among the top wine areas in the world, producing an amazing array of white and red wines on par with any region on the planet! Come learn why in a high energy, interactive and educational game show format where audience members compete for bottles of wine with the help of our country's finest wine talent. Washington Wine Commission Education Director and Master Sommelier Shayn Bjornholm guides the festivities from the helm of his powder blue polyester 70's style tuxedo and always puts on a show.
Seminar 2 at 4:45 pm: Battle of the Sexes
Seminar Moderator: Peter Kasperski, owner Digestif, Cowboy Ciao and Kazimierz world wine bar
Discussion Panel: Chrystal Clifton, Co-Owner/Winemaker, Palmina and Brewer-Clifton Sariya Jarasviroj-Brown, Co-Owner of Circo Vino Imports and Sales Manager of De Grazia Imports USA
Keiko Niccolini, Winemaker, Flowers Winery
Christie Dufault, RN74, San Francisco
Brian Duncan, Co-owner/Wine Director for Bin 36 restaurant group and owner of Bin 36 wines
Bobby Stuckey, Master Sommelier and Co-Owner of Frasca restaurant in Boulder
Charles Bieler, Co-Owner of Bieler wines, Charles & Charles wines, Sombra Mezcal and Three Thieves winery