A favorite restaurant among beer lovers (it has repeatedly won award after award for it's fresh-brewed, er, brews), Gordon Biersch is now upping it's food and cocktail selections. Each of Gordon Biersch's 27 locations, including the four outposts in the Valley, have rolled out a slew of new menu items to join the signature garlic fries and my go-to order, the hummus and goat cheese flatbread salad.
The new entrees range from $9 to $22. Here's a sneak peek:
• Tuscan Chicken Pasta- grilled, sliced chicken sautéed with tomatoes, basil, balsamic vinegar and olive oil, tossed with linguine and freshly shaved parmesan cheese.
• New York Strip and Shrimp Tempura Combo- grilled 8-ounce New York strip with tempura shrimp served with sweet soy dipping sauce and tangy Gordon Biersch steak sauce. The combo is served with a side of roasted garlic mashed potatoes and vegetables.
• Teriyaki Chicken and Tempura Shrimp Combo- teriyaki-glazed grilled chicken breast with tempura shrimp served with sweet soy dipping sauce. The combo is served with a side of sweet ginger rice and vegetables.
• Pecan-Crusted Tilapia- served with a sherry cream sauce, steamed rice and vegetables.
• Shrimp and Scallop Linguini- with red peppers, tomatoes and spinach in a pesto cream sauce.
• Seared Tuna- fresh tuna rolled in spices and lightly seared. Served rare over wasabi aioli, vegetables and sweet ginger rice.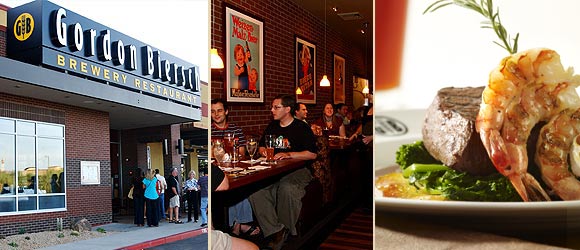 As for the cocktails, here's what you can expect to sip on your next trip to Gordon Biersch:
• Raspberry Bay Breeze– SKYY Infusions Raspberry Vodka with a splash of Ocean Spray cranberry juice and pineapple juice.
• LIT Up– p.i.n.k. caffeine- and guarana-infused vodka, Beefeater Gin, Bacardi Rum, DeKuyper Triple Sec and sweet and sour mix, topped with Coke.
• Asian Peach Martini- SOHO Lychee Liqueur, DeKuyper Peachtree Schnapps, freshly squeezed orange juice and freshly squeezed lemon juice.
• SOHO Tini– SOHO Lychee Liqueur, Absolut Citron, DeKuyper Blue Curaçao, freshly squeezed lemonade and a splash of white cranberry juice.
• The Geisha- "8000 Generations" Japanese Shochu, SoHo Lychee Liqueur with fresh cucumber and fresh-squeezed lemonade.
• Crisp Cucumber Martini- Hendrick's Gin and St. Germain Elderflower Liqueur muddled with fresh cucumber.
Personally, I'm most excited about the cucumber martini–I'm a sucker for veggies or herbs in cocktails. Visit one of the Valley four Gordon Biersch locations to try it for yourself: 18545 North Allied Way, Scottsdale, 480.342.9860; 6915 N. 95th Ave., Glendale, 623.877.4300; 2218 E. Williams Field Rd., Ste. 101, Gilbert, 480.722.0883; 420 S. Mill Ave., Ste. 201, Tempe, 480.736.0033. www.gordonbiersch.com.