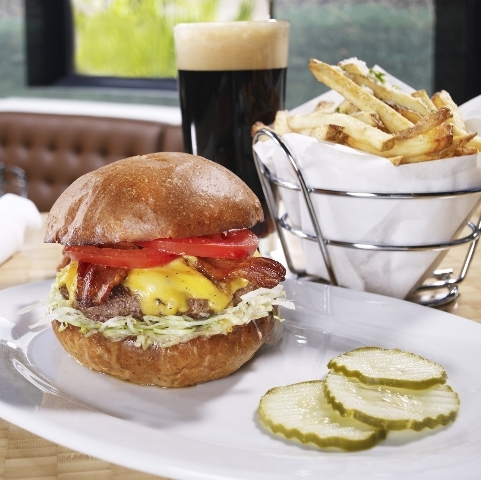 To celebrate National Hamburger Month this May, several Valley restaurants are whipping up some tasty deals on specialty patties (including a few award winners). Take a look.
Zinburger, which was honored last year's Burger Battle "Judge's Choice," dishes up its Winning Burger May 7 – 19 for $16. The Winning Burger features morel mushrooms, zinfandel-braised onions, Vermont white cheddar cheese and homemade Thousand Island dressing. Win Place & Show, which was awarded "People's Choice" at this year's Burger Battle for its combination of Kobe beef, Port Salut cheese, chanterelle mushrooms, crispy bacon and decadent truffle aioli, will be on the menu May 19 – 31 for $16. www.foxrc.com.
In honor of National Hambuger Month, Kelly's At SouthBridge in Scottsdale needs your help in picking the next burger to appear on its menu (Kelly's was named Best Burger in Arizona Foothills Magazine's Best of Our Valley 2013). Chef Israel Medina designed three new burgers that will be voted on throughout the month of May on Kelly's Web site. The burgers include Burger 1: Brioche Toast, Four-Cut Patty, Tomato, Butter Lettuce, Brie Cheese, Crisp Bartlett Pear; Burger 2: Brioche Bun, Four-Cut Patty, Chorizo, Roasted Poblano, Roasted Red and Yellow Peppers, Avocado Spread; and Burger 3: Brioche Bun, Four-Cut Patty, Pancetta, Onion Ring, Fried Egg, BBQ Bourbon Sauce. The burger with the most votes will appear on the menu this summer. The guest who submits the best name for that winning burger will win a free burger every week for a year. Kelly's will also randomly select one winner each week during the month of May who will receive a $50 gift card for participating. www.kellysatsouthbridge.com.
Throughout the month of May, guests of Bobby Q's in Phoenix can savor Bobby-Q's Smokehouse Burger, with Wisconsin sharp cheddar cheese, strips of crispy applewood-smoked bacon, a haystack of crunchy onion strings and both BBQ and "secret" sauces, for only $9 (normally $10.50). www.bobbyq.net.