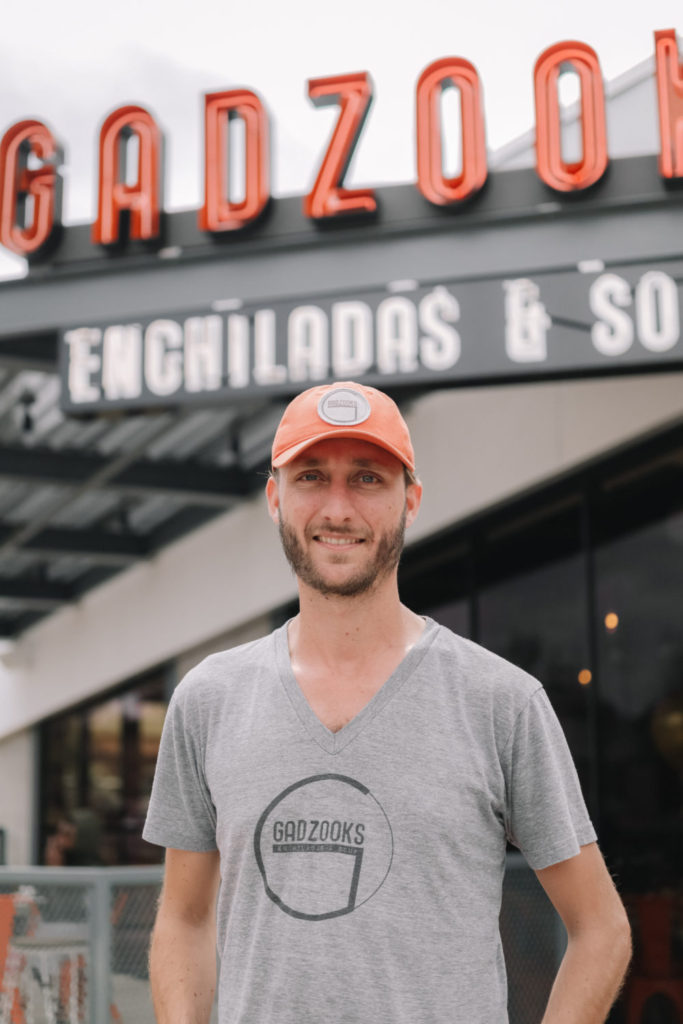 Meet restaurateur Aaron Pool, and learn why Gadzooks Enchiladas & Soup truly is a family affair. Currently, all four locations are offering walk-in carry-out, delivery via Postmates and phone orders.
What inspired you to begin Gadzooks Enchiladas & Soup?
I knew my freshman year of college at Arizona State that I wanted to do a quick service restaurant, but didn't know what food I was going to offer. We were up in Lake Tahoe on a family Christmas vacation that same year when my mom made chicken enchiladas for the family. I had a "A-HA" moment sitting at the dinner table. So I started work on what would ultimately become Gadzooks Enchiladas and Soup. 

Have you always been interested in the culinary arts? Tell us about your life before the start of Gadzooks.
My earliest memories are baking in the kitchen with my mom. I really love the idea of baking; there is something soothing and chill about a day in the kitchen baking up recipes. I found that translates to cooking in the kitchen as well. I had no culinary experience before Gadzooks, I would go to the Ranch Market and buy a bunch of ingredients. For example, I would decide that I wanted to learn how to make red enchilada sauce. So, I would spend all day in the kitchen, making 6 different red sauces. Twelve hours later, I would try them all and they all would suck. Those were difficult times because you would get discouraged, but what was really happening is you were training you palette.
Tell me a little bit about the restaurant group's history. 
I decided to pursue Gadzooks after I graduated from ASU in 2009. It took until 2012 to secure financing through a loan after learning that a landlord/bank wasn't going to lend to someone with no restaurant experience and no money. We found the original site at 7th St. and Osborn and opened in 2013. My mom helped as prep cook for several years; she still makes our fabulous pumpkin cookies for all the stores to this day. My brother Jared, who was a dentist by trade in San Francisco moved back to Phoenix in 2015 and we became partners to expand Gadzooks. Since then, we have opened three stores in Arcadia, Tempe and Chandler. 
Where do you see Gadzooks in the future? What are your goals? 
We think Gadzooks is such a cool brand that is actually "Phoenix Made." So many people I talk to don't think that Phoenix makes anything unique or cool. I want to show people from other parts of the country that yes, Phoenix makes unique things, and incredibly delicious things. So, if you are following me, that's our goal. 
What is the restaurant group's accompanying mission statement and values? 
Our mission is to redefine the enchilada by providing outstanding food through excellence in consistency and quality using unique combinations of flavors, textures, and colors to create a world-class product. Gadzooks is all about food excellence. Every day we focus on quality and consistency of the product. 

How would you describe your restaurant group's identity? 
I think the culture of Gadzooks has been the same since day one, which is under promise, over deliver. When you think of Gadzooks, it's this quirky brand where you think, "a place called Gadzooks Enchiladas and Soup….why?" That's all part of the fun with Gadzooks, is nothing from the name to the pumpkin cookies at the end have to fit a specific mold. As far as our identity, I think we are viewed as a unique to Phoenix, fun, flavorful brand. We have a cult-like following; people who know Gadzooks, swear by Gadzooks. 
Of course, we must ask, what is your favorite dish from Gadzooks?
I eat Gadzooks almost every day. I get asked all the time if I am burnt-out of our own food. I love it. If I'm gone for a few days, I start getting Gadzooks cravings. I get two enchiladas, corn tortillas, one guajllio braised short rib, one tomatillo chicken, Christmas sauce, chihuahua cheese, pico, honey vinaigrette slaw, jalapeño ranch, habanero lava salsa, cotija cheese. Also, the festival tacos are killer.