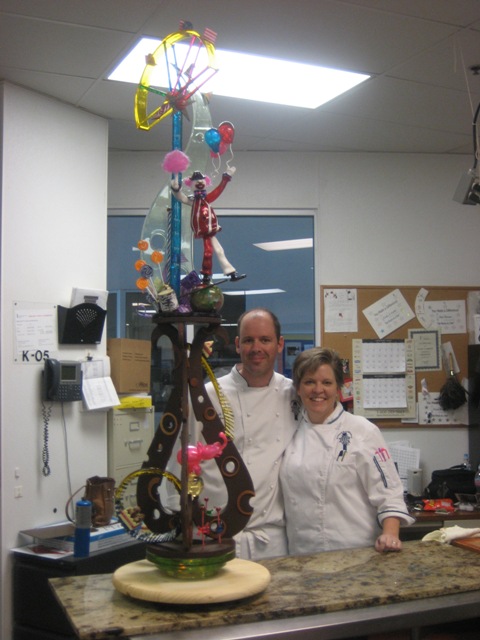 Arizona has proudly produced many of the chefs featured on the Food Network (Mark Tarbell, Beau MacMillan and Lee Hillson on Iron Chef American and Joe's Farm Grill and Matt's Big Breakfast on Diners, Drive-Ins and Dives, to name a very few). This summer, two faces from the Scottsdale Culinary Institute had their moment to shine on the popular television network during one super sweet challenge. Scottsdale Culinary Institute chefs Tracy Dewitt and David Smoake took first place in the "Extreme Candy Carnival" episode of Food Network Challenge on Sunday, June 21. The 6-foot-6-inch showpiece placed ahead of three other teams' entries. Dewitt and Smoake were handpicked by Food Network from a pool of the nation's leading chefs based on experience and knowledge of the pastry and baking discipline within culinary arts. "The most challenging aspects for us were maintaining the overall height and the moving of the piece during the competition," Dewitt said. "The carnival theme gave us a lot to work with in terms of imaginative figures and shapes – we were honored and humbled to be invited to participate in this event."
The eight-hour competition was originally filmed on February 24. Each contestant was challenged to make a "from scratch" showpiece consisting of 50 percent chocolate and 50 percent sugar with one "extreme" element and transfer it to the judging table without breakage. Dewitt and Smoake's showpiece, dubbed "Life is One Sweet Ride," featured such fanciful carnival elements as a Ferris wheel, clown, balloons, merry-go-round, elephant and roller coaster. Despite the impressive design, the showpiece's "extreme" element included a rotating turn-table that failed to operate when the time came. Although it was a disappointment to the team, the judges felt the overall design and craft that went into the showpiece was enough to secure a win.
A dynamic culinary couple, Dewitt and Smoake both teach at the Scottsdale Culinary Institute, Le Cordon Bleu program, in the pastry and baking department. For this competition, they trained more than 200 hours and made three practice pieces, tweaking with each rendition along the way. Far from strangers to the competitive scene, Dewitt and Smoake were the 2006 National Bread & Pastry Champions; and they competed for a rock-and-roll themed Food Network Challenge, where they earned a bronze medal, in March 2006. The chefs will competed again at the National Pastry Team Championship, July 6 – 7, in their hometown of Scottsdale. Check local listings to find out when the episode will rerun.